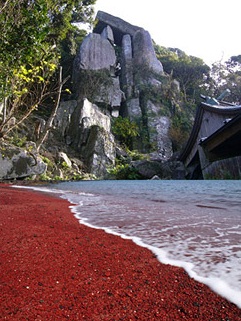 May 3, 2017
Tokyo- The Japanese government is promoting a campaign to attract tourists to farming and fishing villages amid a record-breaking increase in the number of visitors to Japan from abroad.
An estimated 24.04 million foreigners visited Japan in 2016 and the government targets an increase to 40 million by 2020, when the Tokyo Olympic and Paralympic Games will be held.
To lure foreign visitors to rural villages, the development of tourism promotion programs, such as cycling and trekking tours said to be popular with affluent people, is indispensable. The installation of multilanguage information boards and free Wi-Fi wireless local-area networking services is another urgent challenge.
The campaign to encourage tourists to stay in rural villages is aimed at increasing local people's income by stimulating activities in a variety of businesses, including lodging operators, restaurants, transport service providers and souvenir shops.
While the government aims to boost the number of villages participating in the campaign to 500 by 2020, the Ministry of Agriculture, Forestry and Fisheries calls for the creation of local incorporated organizations that promote the campaign with clarified responsibilities.
Tasks for them include the establishment of business models and the development of tourism resources that make good use of local traditional lifestyles and cultures as well as landscapes.
Ojika Island, a small islet at the northern tip of the Goto island chain in Nagasaki Prefecture, southwestern Japan, is a front-runner in the campaign, drawing attention for its programs to encourage home stay tourism.
Accessible via a three-hour ferry ride around 60 kilometers from the port of Sasebo, Ojika, with a population of about 2,600, is attracting tourists under the leadership of Ojika Island Tourism, a nonprofit organization founded in April 2007.
The NPO puts weight on the profitability of its programs featuring educational tours for children. It has also been promoting the development of classy eating and lodging facilities renovated from "kominka" old folk houses while offering personalized tours for grown-ups under the brand of "Otona no Shima Tabi" (island tours for adults).
The NPO is credited with a steep increase in the number of tourists visiting the island to 7,896 in 2015, about 20 times as many as 392 in 2007. The number of full-time staff members increased from three to 11.
As a result of such active tourism promotion, more than 300 people have returned or migrated to the island from other places over the past decade to work in the tourism, farming and fishing sectors.
Toshiyuki Maeda, leader of the NPO, said the home stay program has increased jobs on the island and enabled residents to earn additional income as instructors for activities by tourists.
"An increase in the population of young people has contributed to double-digit childbirths per year," Maeda said. "Local residents consider that they should raise children as a community-wide responsibility."
Asked to give advice to villages wishing to lure tourists, Maeda stressed the importance of "delivering the attractiveness of what they have as they are."
"We accept tourists as an extension of traditional neighborly ties on the island," he said. (Jiji Press)