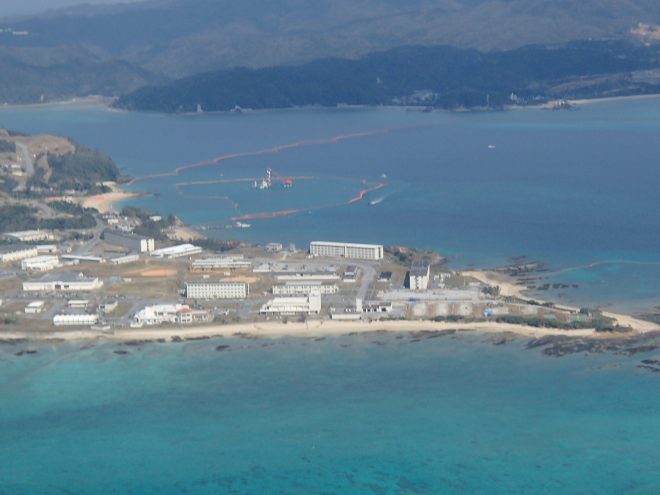 April 4, 2017
TOKYO- 
The Japanese government plans to start as early as mid-April work to build embankments off the Henoko coastal district in Nago in Okinawa Prefecture to fence a zone set to be reclaimed for the relocation of a US military base within the southern Japan prefecture, Defense Ministry sources said
Monday
.
As the prefecture's approval for work to crush rocks and reefs in waters off the Henoko district expired at the end of March, Okinawa Governor Takeshi Onaga plans to take measures against the Japanese government if it actually starts the seawall construction, which will possibly destroy rocks and reefs, sources familiar with the situation said.
On Monday
, the ministry's Okinawa Defense Bureau started preparatory work off Henoko for a boring survey of the ocean bottom and the installation of water pollution prevention equipment.
It was the first offshore work since the approval's expiration for the construction of a replacement facility for the US Marine Corps' Futenma air base in Ginowan.
In December last year, the Supreme Court issued a ruling backing the nod given by Hirokazu Nakaima, Onaga's predecessor, to landfill work off Henoko.
Chief Cabinet Secretary Yoshihide Suga told a press conference
on Monday
that the government will go ahead with the base relocation work based on the decision by the top court.
According to the prefecture's fisheries regulations, approval by the governor is necessary for work that will change seabed topography in areas where fishery rights are established.
As a local fishery association gave up its fishing rights in the special zone set in November last year for the Futenma replacement facility construction, the central government believes there is no need for renewing the landfill approval. (Jiji Press)