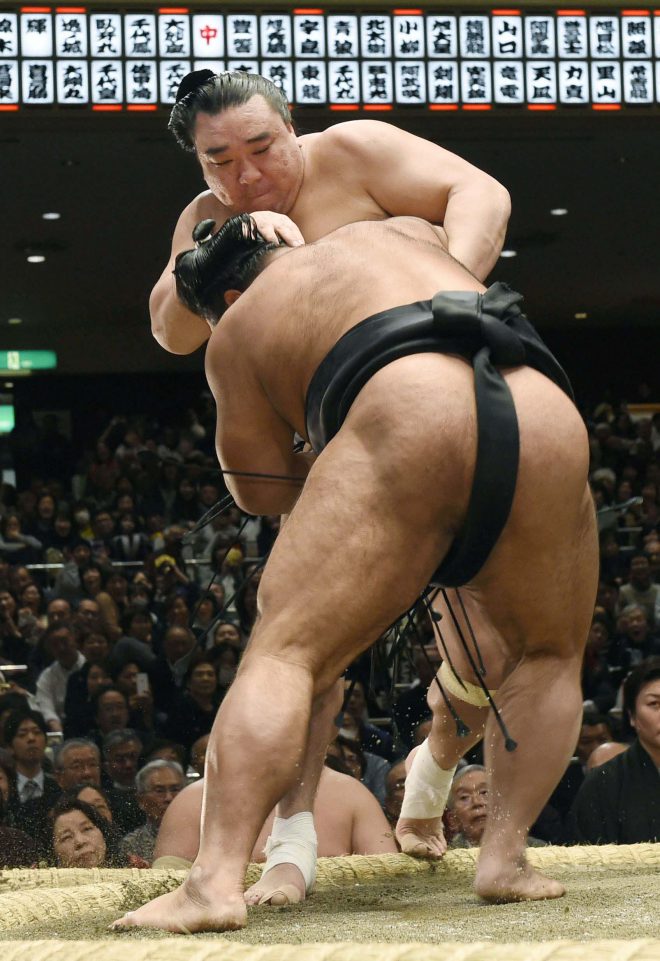 January 15, 2017
TOKYO
- Yokozuna Hakuho suffered a stunning upset, handing ozeki Kisenosato the sole lead
on Sunday
as the New Year Grand Sumo Tournament passed the half-way mark after eight days.
Hakuho, looking to extend his record career championship haul to 38, entered the day with Kisenosato as one of just two unbeaten wrestlers in the 15-day tourney at Tokyo's Ryogoku Kokugikan, but No. 2 maegashira Arawashi (2-6) deflected his fellow Mongolian's lightning-quick charge and forced him out.
The loss left Kisenosato alone with an 8-0 record. Despite racking up more wins last year than any other wrestler, Kisenosato remains in the hunt for his first career championship. Although he looked extremely solid through the first week, he nearly slipped up
on Sunday
.
The 31-year-old ozeki survived a scare during his prolonged effort to twist Okinoumi (2-6) down. Before the third-ranked maegashira hit the dirt, the wrestlers' centrifugal motion nearly carried the ozeki out first. Only some nimble footwork from Kisenosato allowed him to skirt the straw bales and remain undefeated.
Hakuho was joined at 7-1 by both 10th-ranked maegashira: Takanoiwa from Mongolia and Sokokurai from Chinese Inner Mongolia. Takanoiwa overpowered No. 7 maegashira Myogiryu (2-6), while Sokokurai shoved out No. 12 Daishomaru (2-6).
Komusubi Takayasu, who started the day as one of the two wrestlers in the top ranks with only two losses, was the deserved loser after a strong but unimaginative tachiai. Top-ranked maegashira Mitakeumi (5-3) was forced back to the straw with a stiff arm to his throat, but wiggled out, turned the tables on the komusubi and forced him out.
Goeido also slipped to his third loss against rival ozeki Terunofuji, who evened his record at 4-4. Despite being less mobile due to his bad knees, the Mongolian ably kept Goeido off his belt on the tachiai. Goeido responded by trying to get around his opponent but lost his footing in the process and saw his record drop to 5-3. (Kyodo News)