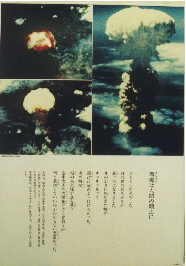 May 4, 2017
VIENNA- 
A Japanese hibakusha, or atomic bomb survivor, called for the abolition of nuclear weapons
on Wednesday
at the first meeting in Vienna of the preparatory committee for the 2020 review conference for the Nuclear Nonproliferation Treaty (NPT).
Atomic bomb survivors are wishing to see the elimination of nuclear weapons while they are alive, Michiko Kodama, 79, assistant secretary-general at the Japan Confederation of A- and H-Bomb Sufferers Organizations, or Nihon Hidankyo, said in a speech at the meeting.
At the age of 7, Kodama was exposed to radiation from the US atomic bomb that was dropped on Hiroshima, western Japan, on Aug. 6, 1945, in the closing days of World War II.
The city was in a living hell after the atomic bombing, Kodama said, adding that she lost many relatives following the nuclear attack.
Eliminating nuclear weapons is the only way to prevent such tragedy from happening again, she stressed.
Noting that a proposed treaty to ban nuclear weapons will be effective in ensuring the elimination of such weapons and nuclear nonproliferation, Kodama called on countries opting to boycott talks on the treaty to come to the negotiating table.
At the preparatory committee meeting, Tomihisa Taue, mayor of Nagasaki, southwestern Japan, which was also flattened by the United States' atomic bombing, on Aug. 9, 1945, said that visiting the atomic-bombed cities and seeing the reality of the nuclear attacks will facilitate understanding of the inhumanity of nuclear weapons and the need to scrap them as soon as possible. (Jiji Press)