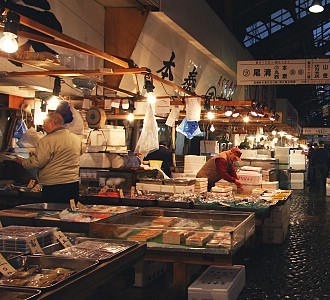 January 14, 2017
Tokyo- An amount of benzene 79 times the minimum allowed by the government was detected among other toxic chemicals in groundwater samples from Tokyo's Toyosu area where the famous Tsukiji fish market is planned to be relocated, officials in the Tokyo metropolitan government said Saturday.
The latest finding, reported to the metropolitan government's panel of experts, could have an impact on Tokyo Gov. Yuriko Koike's decision on the timing of the market relocation. Koike has already postponed the move in order that safety concerns over the new market site can be addressed.
"I am surprised to know that detected levels came in far higher than expected," Koike told reporters.
She said earlier in the day at a lecture to a political study group she established in Tokyo that the metropolitan government "will have experts discuss" how to deal with the soil contamination.
It is the second time that toxic substances have been found to exceed the standards. Among them, the level of benzene, typically used in production of plastic and synthetic fibers, was 79 times the minimum level allowed, the officials said.
The chemical, which also results from the production of gas, is known to cause cancer.
Upon assuming her post in August last year, Koike decided to postpone the planned November 2016 relocation of the wholesale fish market, which also deals in fruit and vegetables, amid concerns about soil and air pollution.
She later established a new schedule, saying the opening date for the new market will fall some time from the end of 2017 to spring next year, or later, after the expert panel completes between April and May their assessment of the data released on Saturday.
Eight similar surveys have been conducted since November 2014 when the Tokyo government claimed it had finished taking steps to deal with soil contamination in the area caused by the gas production plant it previously hosted. (Kyodo News)