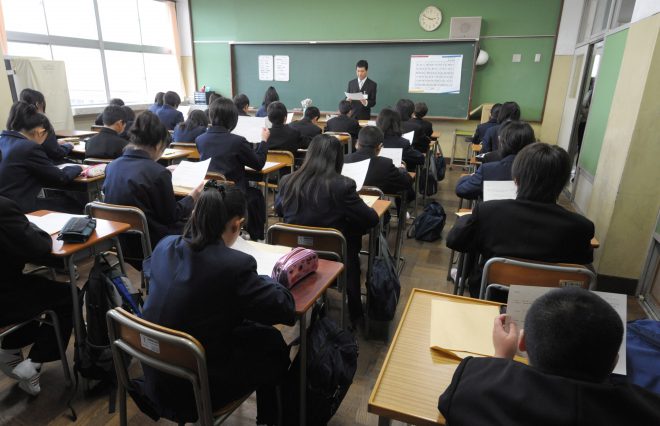 March 14, 2017
TOKYO- Japanese high school students have a passive attitude toward their studies, compared with US, Chinese and South Korean students, a survey showed
Monday
.
According to the survey by the National Institution for Youth Education, 91.2 pct of Japanese respondents think their classes are designed to have students memorize contents of textbooks, the second-largest group by nationality, behind only China.
Meanwhile, 16.6 pct of Japanese respondents answered their classes require them to do their own research, write reports and make presentations while 11.9 pct noted they do group learning and discussions. Both figures are the smallest of the four countries.
On attitudes and behavior during classes, 79.4 pct of Japanese students diligently took notes, but 15.0 pct fell asleep during classes, the largest national groups for both categories. The proportions of Japanese students positively participating in group work and speaking out stood lowest, at 23.5 pct and 3.7 pct, respectively.
The survey was conducted between September and November last year on students at ordinary high schools in the four countries, with valid responses given by 7,854. It also found that Japanese students tend most to study only before exams and least to think on their own, make practical application of things they have learned and try different methods.
Furthermore, Japanese students proved to be less accustomed to using spreadsheet software, creating and upgrading websites and writing computer programs than US, Chinese and South Korean students.
"In Japan, traditional passive lessons are used so students are not interested in their studies or in utilizing information and communications technology in their studies," said Yoichi Akashi, director of the Research Center for Youth Education. (Jiji Press)