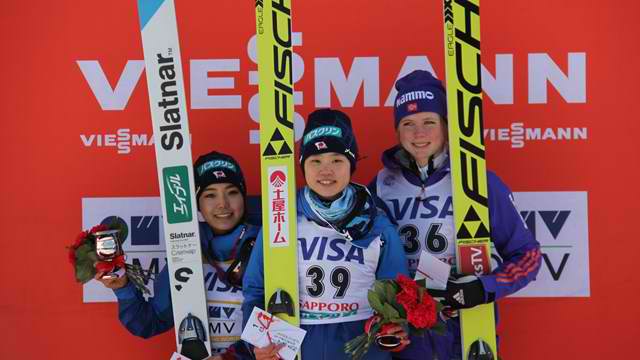 January 14, 2017
Tokyo- Japan's Yuki Ito captured her first World Cup title on Saturday after finishing ahead of compatriot and three-time overall winner Sara Takanashi.
Ito, 22, leaped 95 and 96 meters in her two attempts to post 254.3 points at the K-90 Miyanomori Schanze, slotting her ahead of second-place finisher Takanashi.
Takanashi, the 20-year-old ski jumping superstar, had won five of the six World Cup rounds this season but had to settle for second with 242.1 points after jumps of 93 and 92 meters.
"I was psyched up for the jump. I hope my effort gave something back to those who supported me, if only by little," said Ito, who like Takanashi returned to her native Hokkaido for the meet.
Runner-up at the 2015 world championships, Ito finished second in six previous World Cup meets but had never reached the top of the podium.
"I feel my jumps are becoming more stable, but there are many more things that I can aim for," Ito said.
With four straight World Cup meets scheduled in Japan through next weekend, Takanashi, who won the last six meets in Sapporo, could have matched Austrian jumper Gregor Schlierenzauer. (Kyodo News)