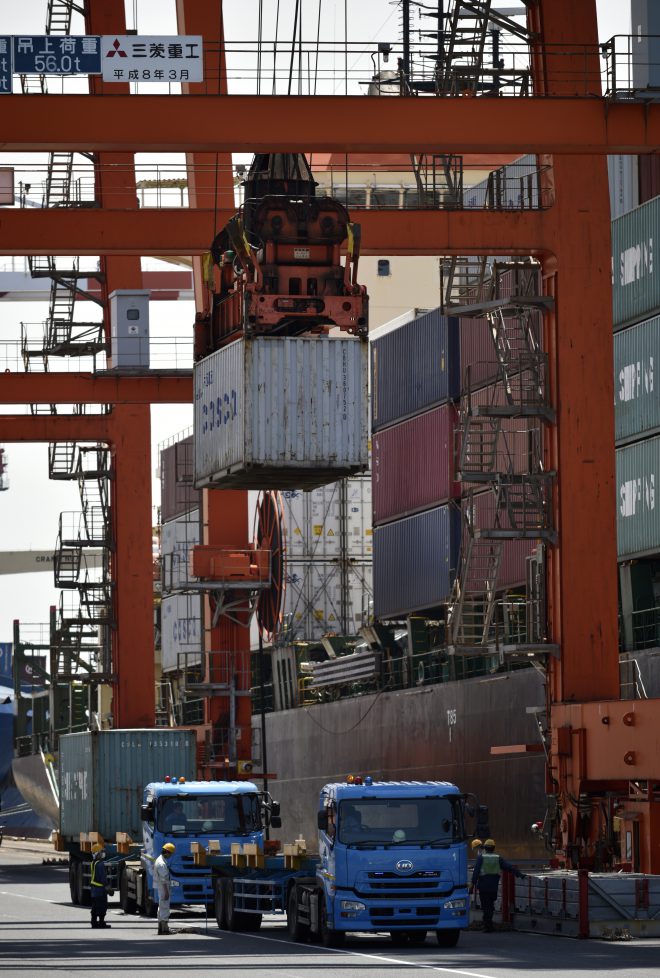 February 20, 2017
TOKYO- 
Japan's trade deficit in January widened to 1,086.9 billion yen from 647.7 billion yen a year earlier, while its surplus with the United States slumped, government data showed
on Monday
.
The wider customs-cleared deficit was mainly attributed to a rise in the value of imports on higher commodity prices, with oil prices soaring more than 40 pct. A fall in automobile exports to the United States was another factor.
The first Japanese trade deficit
in five months
was much larger than the median forecast of a 629.4-billion-yen deficit in a Jiji Press poll of 20 research institutes.
Exports expanded 1.3 pct to 5,421.9 billion yen, backed by firmer demand from China and other Asian countries for items such as auto parts and steel products, according to the preliminary report by the Ministry of Finance.
Imports rose a steeper 8.5 pct to 6,508.8 billion yen, the first rise
in 25 months
. Imports of Middle East oil soared as oil prices exceeded year-before levels for the first time
in 28 months
.
In trade with the United States, where President Donald Trump calls for reducing his country's trade deficits, Japan's surplus plunged 26.6 pct to 399.3 billion yen.
US-bound exports fell 6.6 pct, hit by a fall in exports of small passenger cars, while imports surged 11.9 pct after Japan started importing US shale gas.
Trump repeatedly voiced his frustration with large US trade deficits with Japan, China and others. Even after his
Jan. 20
inauguration, the businessman-turned-president attacked what he claimed to be unfair Japanese trade barriers on US vehicles.
In trade with the rest of Asia, Japan fell into the red for the first time
in 12 months
, as imports from the region rose ahead of the Chinese New Year's Day in late January, which came earlier this year than early February last year.
Japan's trade deficit with mainland China expanded to 909.3 billion yen from 814.9 billion yen, with exports up 3.1 pct and imports up 7.2 pct.
Trump's protectionist approach is likely to be a headwind for Japanese exports in the medium term, SMBC Nikko Securities Inc. said in a report on the January trade data.
But in the short term, the new president's planned tax cuts and possible fiscal stimulus are seen boosting demand in the United States, which would in turn support Japanese exports, the report added. (Jiji Press)