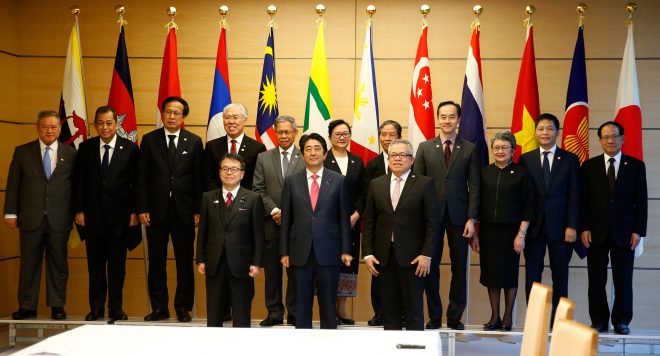 April 6, 2017
Tokyo- 
Economic ministers of Japan and the Association of Southeast Asian Nations are expected to strengthen their cooperation to fight protectionism and promote free trade, at their planned meeting in the western Japan city of Osaka
on Saturday
.
The 10 ASEAN ministers will visit Japan for three days from Thursday.
At the Osaka conference, the ASEAN ministers will discuss with their Japanese counterpart, Hiroshige Seko, how they can cooperate with each other in the negotiations to conclude a 16-nation Regional Comprehensive Economic Partnership agreement and in promoting technological innovation.
"At a time when protectionism is gaining strength globally, it is important to establish a free trade framework," Seko said.
Also
on Saturday
, the ASEAN ministers will meet with Osaka Governor Ichiro Matsui.
In the talks, Matsui is likely to seek ASEAN support for his prefecture's bid to host the 2025 World Exposition.
This will be the first visit to Japan by all ASEAN economic ministers
in five years
.
During their Japan stay, the ministers are scheduled to visit companies and research institutes and have meetings with business groups in Tokyo as well as in the western prefectures of Kyoto, Osaka and Wakayama. (Jiji Press)