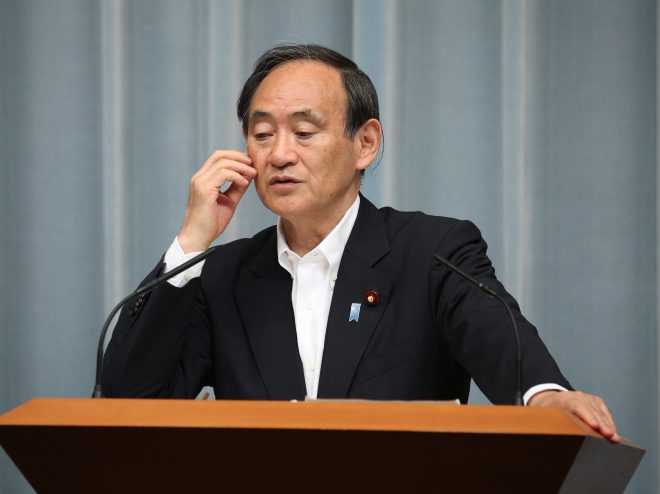 February 21, 2017
TOKYO- A trilateral summit among Japan, China and South Korea is unlikely to take place before May, due to Seoul's political turmoil and soured relations among the three Asian countries.
"We are making arrangements to hold (such a summit) at an appropriate time, but no date has been fixed," Japanese Chief Cabinet Secretary Yoshihide Suga told a press conference
Monday
.
While Seoul is mired in the domestic turmoil, Japan-South Korea relations have deteriorated over statues symbolizing comfort women in front of Japanese diplomatic establishments in South Korea.
Relations between China and South Korea have soured over the planned deployment of the Terminal High Altitude Area Defense, or THAAD, advanced ground-based missile defense system at a US military base in South Korea.
Last year, Japan arranged a trilateral summit for mid-December as the holder of the rotating presidency of the trilateral framework.
But the efforts were given up by year-end amid the turmoil in South Korea, which led to scandal-tainted President Park Geun-hye's suspension from office.
To make matters worse, a South Korean civic group set up a statue of a girl symbolizing Korean women forced into prostitution for Japanese soldiers in wartime, in front of the Japanese consulate-general in Busan, southern South Korea, at the end of last December.
In protest, Japan recalled its ambassador to South Korea and the consul-general in Busan. The two Japanese diplomats have not returned to South Korea yet.
Japanese Foreign Minister Fumio Kishida met with his South Korean counterpart, Yun Byung-se,
on Friday
on the sidelines of a Group of 20 meeting in Germany. But they did not discuss the trilateral summit.
China sees little reason to accept a meeting including Japan amid spats over China's assertive behavior in the East and South China Seas, particularly ahead of the National Congress of the Communist Party of China, a key event for Beijing held every five years, in autumn.
If South Korea's Park is removed from office, a presidential election could take place as early as late April, as the country's constitution stipulates that an election be held
within 60 days
of an incumbent president's departure.
A senior Japanese government official said arrangements for a three-way summit are likely to be made in earnest after a new government is formed in South Korea.
"It will remain difficult (to arrange a trilateral summit) as long as it is unclear who will take part from South Korea," the official said. (Jiji Press)