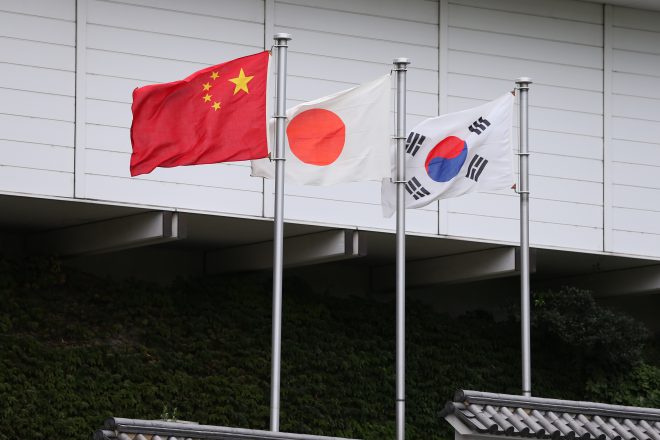 June 29, 2017
Tokyo- Japan, China and South Korea are unlikely to hold an envisioned three-way summit in July, Japanese government sources told Jiji Press 
on Wednesday
.
Japan proposed holding the summit in Tokyo in July, but Beijing has recently expressed opposition to an early top-level meeting among the three East Asian countries, the sources said.
The trilateral talks are now seen taking place after the Communist Party of China's national congress in autumn that will mark the start of Chinese President Xi Jinping's second term.
Japan currently holds the presidency of the three-way talks. The last time the country hosted such a meeting was 2011.
Tokyo proposed that top leaders of the three countries gather in Tokyo 
July 19-21
 or 
July 24-26
. South Korea has approved both options, according to the sources.
The envisioned meeting will bring Chinese Premier Li Keqiang and South Korean President Moon Jae-in to Japan for the first time since they took office.
Tokyo wants to hold the three-way meeting early because Japan and China will mark later this year the 45th anniversary of the normalization of their bilateral diplomatic relations, the sources said.
Beijing seems to regard an early summit with Tokyo and Seoul as risky. China is in a spat with South Korea over the US-provided Terminal High Altitude Area Defense, or THAAD, system, while its relations with Japan have not fully recovered. (Jiji Press)