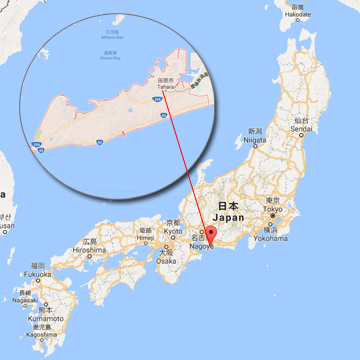 April 2, 2017
TAHARA- In the event of a large-scale natural disaster, many local authorities have their hands full evacuating and attending to residents, including the injured.
At the same time, securing places to keep the bodies of people killed in a disaster and handing them over to their families is an important task that often does not draw much attention.
The city of Tahara, in Aichi Prefecture, central Japan, started a drill for the smooth operation of mortuaries three years ago, assuming massive tsunami unleashed by a feared megaquake in the Nankai Trough in the Pacific Ocean off central to southwestern Japan. Municipal personnel are worried that the transportation and storage of corpses may be disrupted in times of major disasters.
"We hope to ensure that families receive the remains of their loved ones in clean condition," an official said. Tahara government officials took their cue from the March 2011 earthquake and tsunami, which devastated coastal communities in northeastern Japan.
According to officials of the city of Natori, Miyagi Prefecture, the transportation of human remains did not make smooth headway in some tsunami-hit coastal areas, causing some corpses to be damaged before cremation.
The city government of Tahara, on the Pacific coast, expects to face up to 1,500 deaths in the event of a large-scale earthquake. Driven by a sense of crisis, a female municipal staffer visited Natori in 2013 to be briefed on procedures ranging from the keeping of bodies to cremation.
"I realized that preserving the dignity of the deceased and cremating their remains smoothly will help their families to start getting back on their feet with relative peace of mind," she said.
According to the Ministry of Health, Labor and Welfare, city, town and village governments are responsible for preparing infrastructure and setting procedures for handling human remains in times of disasters, based on wide-area cremation plans worked out by prefectural governments.
But preparations have not always been satisfactory, as municipal governments need to work in collaboration with police and fire departments, said an official of the ministry's Environmental Health Division.
"Securing evacuation shelters for survivors takes all of our efforts," an official of Yokosuka, Kanagawa Prefecture, said, suggesting that many other municipalities have little leeway to give adequate thought to mortuaries.
The city government of Tahara has prepared mortuaries for 700 bodies and plans to rent space from temples and shrines if there is a shortage. Among cities, towns and villages in Japan, it is one of the best prepared.
Last October, about 45 people, including city hall employees and officers of the Aichi prefectural police department, took part in an exercise on mortuary operations.
At a designated facility, a funeral company worker simulated cleaning a human body that had undergone checks by a coroner and placing it a coffin. After offering a silent prayer, the worker, 62, said, "I'd like to take as much time as possible to clean them (the bodies)."
City officials selected a crematorium for the body and participants in the role of family members of the deceased attended the taking out of the body, finishing the drill.
"City hall personnel may also suffer in a disaster," the woman city staffer said. "I hope every participant in the drill will be able to take a leadership role (in the care of human remains)." (Jiji Press)