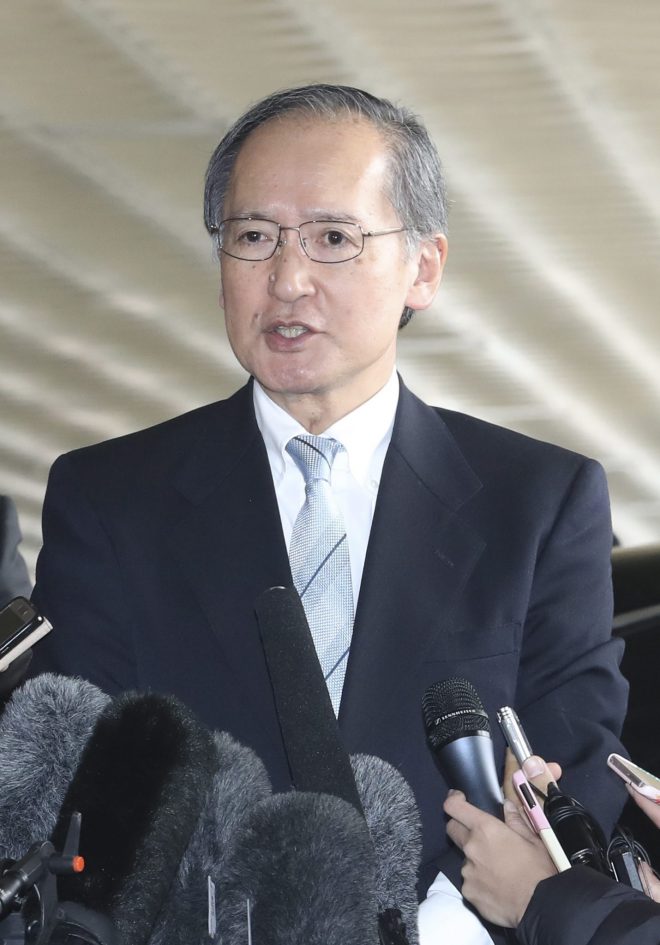 April 8, 2017
SEOUL- Japanese Ambassador to South Korea Yasumasa Nagamine has agreed with the commander of US forces in South Korea to deepen bilateral cooperation on North Korean issues, according to a Japan-US diplomatic source.
At their first meeting in Seoul
on Thursday
, Nagamine and Gen. Vincent Brooks exchanged information on North Korea, which has made repeated provocative acts, including firing ballistic missiles, and confirmed the importance of Japan-US and Japan-US-South Korea cooperation to deal with such issues, the source said.
The meeting was also attended by Marc Knapper, charge d'affaires ad interim at the US embassy in Seoul, the source said.
On Wednesday
, the reclusive communist state fired a ballistic missile into the Sea of Japan from its eastern coastal city of Sinpo.
Some critics say the launch ended in failure, citing the short flight distance of some 60 kilometers. Authorities of the three countries are strengthening vigilance of North Korea amid the ongoing two-day summit from
Thursday
between US President Donald Trump and his Chinese counterpart, Xi Jinping, and also ahead of the 105th anniversary of the birth of the late Kim Il Sung, North Korea's founder, on
April 15
.
"Japan-South Korea cooperation is extremely important on issues including North Korea," Nagamine told reporters after he returned to South Korea
on Tuesday
after some three months.
In January, Japan recalled the ambassador to protest the installation late last year of a statue of a girl symbolizing wartime comfort women near the Japanese consulate-general in Busan, southern South Korea.
The women, many of them from the Korean Peninsula, were forced to serve as prostitutes for Japanese troops before and during World War II. (Jiji Press)