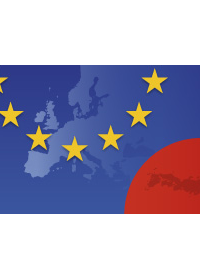 June 29, 2017
Tokyo- Japan and the European Union are now eyeing the possibility of pursuing a political settlement on an envisaged economic partnership agreement, as their final-stage working-level negotiations on the trade deal are getting bogged down about the handling of tariffs on European cheese and Japanese cars.
While the EU is seeking the abolition of Japanese tariffs on all kinds of European cheese in principle, the Japanese side wants to lower or eliminate them over long periods, just like under the Trans-Pacific Partnership free trade deal. The TPP accord allows Japan to maintain soft cheese tariffs and seeks to remove the country's hard cheese tariffs in the 16th year after the pact's effectuation.
Japan regards the cheese-related TPP accord as a "defense line" in the EPA negotiations, but the EU side is maintaining a stern attitude as it positions cheese as the most important item in its talks with Japan.
The EU is indicating that it will not make any concession on the proposed removal of its 10 percent tariffs on Japanese cars, an important issue for Japan, unless it obtains sufficient results in the field of cheese.
Regarding the negotiations on the expansion of Japan's imports of European cheese, "The situation is severer than we had imagined," a senior Japanese ruling party official said.
European Commissioner for Trade Cecilia Malmstroem is expected to visit Japan as early as 
Friday
 to have talks into the weekend with Japanese Foreign Minister Fumio Kishida, who is in charge of overall EPA negotiations with the EU.
They will try to break the ice politically and pave the way for Japanese and EU leaders to reach a broad agreement in early July.
Wood is another contentious item.
The EU is seeking the abolition of Japanese tariffs on European wood products, which are internationally competitive.
The administration of Japanese Prime Minister Shinzo Abe is working on the spread of domestically produced construction materials as part of its efforts to promote the revitalization of regional economies and is thus seeking a moratorium on the abolition of Japan's 3.9 pct tariffs on structural laminated wood used as beams or columns of wooden houses.
There are also items on which Japan and the EU have made progress in their tariff negotiations.
The two sides are close to an agreement on the lowering of Japan's tariffs of up to 482 yen per kilogram of low-priced pork to around 50 yen, almost the same level as the TPP deal.
In addition, Japan is expected to accept cuts in its 10 pct tariffs on chocolate, 25 pct tariffs on candies and 15 pct tariffs on biscuits.
As for clothes and fabrics, Japan and the EU plan to abolish their tariffs imposed on each other's products. For example, Japan's tariffs of up to 12.8 pct imposed on shirts and skirts imported from Europe will be lowered to zero in the future.
Japan also plans to reduce its tariffs on pasta, while cutting its effective tariffs on wheat at the same time. (Jiji Press)