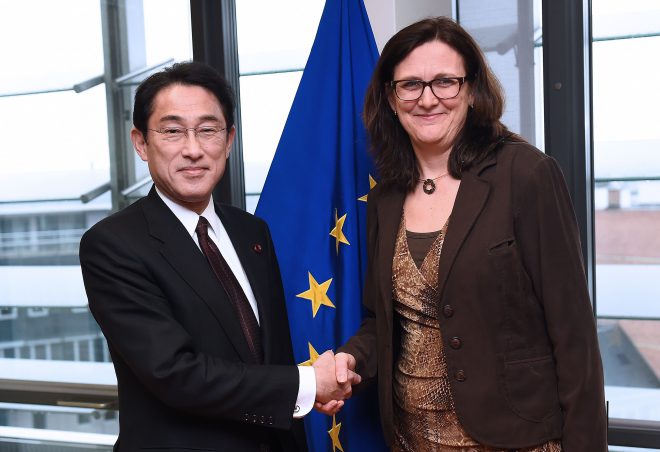 February 21, 2017
BRUSSELS- A further delay is now seen as possible in nearly four-year-old negotiations between Japan and the European Union to conclude an economic partnership agreement.
The two sides are believed to be working to reach a basic accord in the free trade talks by the end of next month after missing the previous deadline at the end of last year.
But in a conversation with reporters
on Monday
, a European Commission source declined to discuss any specific target period, while stressing that both sides are aiming to reach a broad accord at an early date this year.
In the face of a stalemate on the thorny issue of farm product tariffs, the EU side appears to have adopted a stance of waiting to see reforms in Japan's agriculture sector.
The EU source expressed hope that progress in Japanese agricultural reforms will help advance the trade negotiations.
The Japan-EU talks may also be affected by a spate of elections in key EU member countries this year, starting with a general election in the Netherland next month.
There are concerns that protectionists could increase their influence through the European elections after Trump won the US presidential election last November with his "America first" policy.
Late last month, European Commissioner for Trade Cecilia Malmstroem sent a letter to Japanese Foreign Minister Fumio Kishida proposing a ministerial session to seek a breakthrough.
Kishida and Malmstroem last week held talks on the sidelines of a Group of 20 gathering in Bonn, Germany, but they only agreed that Japan and the EU will continue the trade negotiations. (Jiji Press)