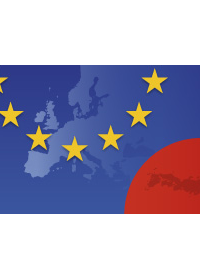 April 4, 2017
TOKYO- 
Japan and the European Union have effectively reached an accord in 14 out of the 27 areas in ongoing talks on a proposed bilateral economic partnership agreement for free trade, Jiji Press learned
Monday
.The 14 areas include customs and trade facilitation, dispute settlement, e-commerce and small and midsize enterprise assistance, informed sources said.
Meanwhile, the two sides remain apart on goods tariff reduction and elimination, the sources also said.
In Tokyo
on Monday
, Japan and the EU reopened talks between their top negotiators after a break of two and a half months.
The Tokyo session, set to continue until
Wednesday
, will focus on trade and investment rules, including in the field of government procurement, which is related to tenders for public projects.
The two sides plan to ink an EPA agreement that will cover all 27 areas. Of the total, the 14 fields have effectively seen key sticky points resolved or await final confirmation before resolution, the sources said.
Of the 14 areas, the field of customs and trade facilitation includes measure to speed up customs procedures, while e-commerce covers rules related to transactions via the Internet. The 14 fields also include corporate governance, sanitary and phytosanitary measures and competition policies.
Japan and the EU expect a political solution by minister-level officials on the most difficult issue of market access, including tariffs on automobiles and agricultural products such as pork and dairy products, the sources said.
Gaps also remain between the two sides on investment rules and government procurement, according to the sources.
With France and Germany headed for presidential and general elections, respectively, Japan and the EU are considering holding ministerial talks in autumn or later so that they can reach a broad EPA deal by year-end. (Jiji Press)