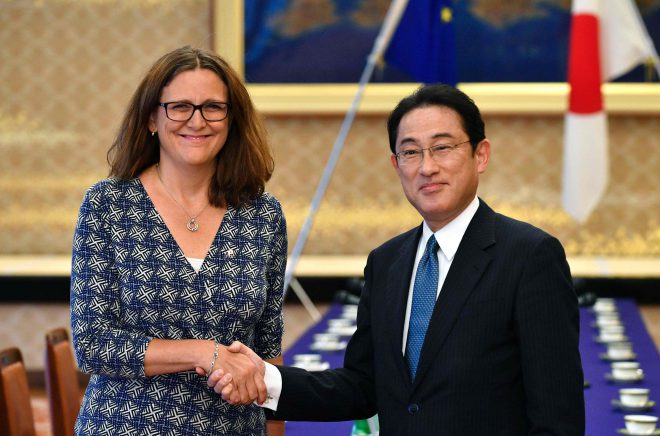 July 2, 2017
Tokyo- Japan and the European Union will continue talks on a proposed economic partnership agreement after they failed to narrow gaps over key issues at a two-day ministerial meeting ended in Tokyo 
Saturday
.
Gaps remain on issues such as Japanese tariffs on cheese and other European farm products.
The two sides aim to reach a broad agreement before their leaders meet in Brussels as early as 
Thursday
, sources familiar with the negotiations said.
"While there was meaningful progress, major issues remain," Japanese Foreign Minister Fumio Kishida told reporters after the ministerial talks. He signaled his readiness to travel to Brussels before the Japan-EU summit for further talks.
Speaking to reporters, Japanese Agriculture, Forestry and Fisheries Minister Yuji Yamamoto, who also joined the ministerial meeting, said the EU's "demands are too high for Japan to accept." He may accompany Kishida on his Brussels visit, the sources said.
Japanese Prime Minister Shinzo Abe instructed Kishida and Yamamoto to make utmost efforts to reach a broad agreement with the EU at an early date.
The EU was represented by Trade Commissioner Cecilia Malmstroem and Commissioner for Agriculture and Rural Development Phil Hogan in the ministerial meeting. (Jiji Press)