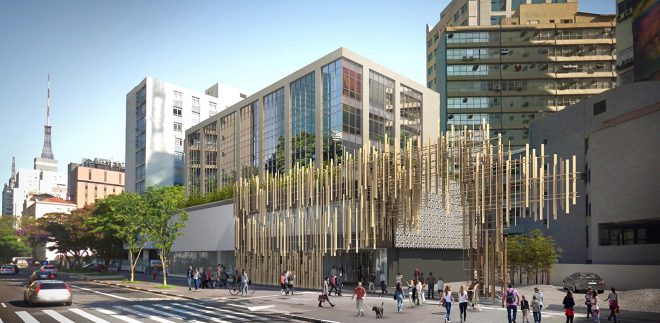 April 9, 2017
SAO PAULO- 
Sao Paulo, April 7 (Jiji Press)--The Japanese Foreign Ministry said
Friday
it will open the "Japan House" public relations base in Sao Paulo on
April 30
.
The facility will serve the role of publicizing Japanese culture and technologies with the aim of encouraging more people to become pro-Japanese.
It will be opened to the public from
May 6
.
To commemorate the opening, a concert featuring prominent artists from Japan and Brazil, including Japanese musician Ryuichi Sakamoto, will be held on
May 7
.
Japanese architect Kengo Kuma oversaw the design of the Japan House, which abundantly uses cypress wood for its exterior.
The facility, located on the main street of Sao Paulo, will exhibit art works made of bamboos and host seminars for introducing Japanese culture.
The Japanese government plans to open similar PR bases also in London and Los Angeles. (Jiji Press)