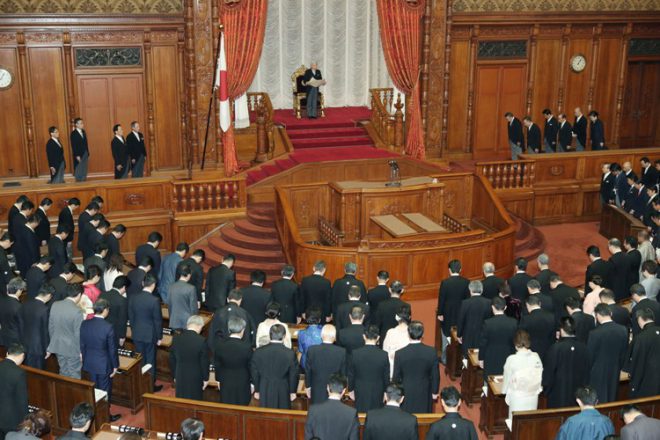 February 28, 2017
TOKYO- Japan's House of Representatives passed Monday the government's fiscal 2017 general-account budget, worth a record 97,454.7 billion yen, which calls for directing funds to toward measures aimed at beating deflation and reviving the economy.
With the approval of the all-important lower chamber of the Diet, the country's parliament, the budget will be enacted on
March 28
, before the
April 1
start of fiscal 2017, based on the chamber's constitutional superiority, even without a vote in the House of Councillors, the upper chamber.
The budget was approved at a plenary meeting of the Lower House with support mainly from the ruling Liberal Democratic Party, and its coalition partner, Komeito. It was immediately sent to the Upper House for further deliberations.
Despite the prospect of automatic enactment, the ruling camp plans to make every effort to realize early passage of the budget, sources familiar with the situation said.
Due mainly to ballooning social security costs, the general-account budget hit a record high for the fifth straight year.
Under the budget, the government of Prime Minister Shinzo Abe puts priority on measures aimed at creating a society enabling dynamic engagement by all people and promoting work-style reforms, key policy measures for his cabinet.
The budget envisions record social security spending of 32,473.5 billion yen, reflecting the aging of society. Defense outlays total 5,125.1 billion yen, an all-time high, mainly to strengthen preparations for North Korean missile launches.
The amount of new Japanese government bonds to be issued in fiscal 2017 will drop by 62.2 billion yen from the fiscal 2016 initial budget to 34,369.8 billion yen, down for the seventh year in a row, in line with the Abe government's target of balancing economic recovery and fiscal reconstruction. (Jiji Press)