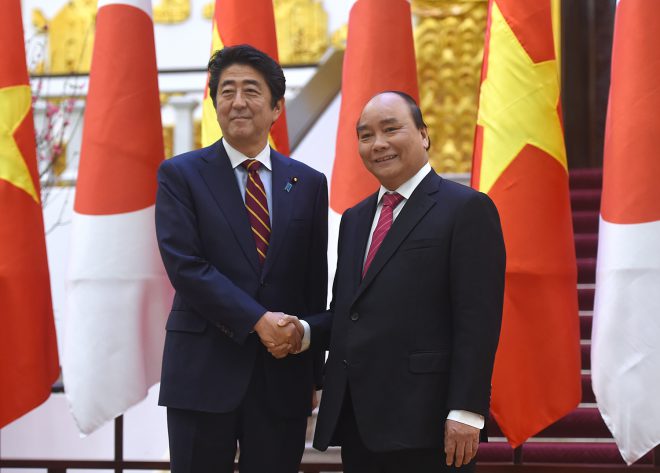 January 17, 2017
HANOI
- Japanese Prime Minister Shinzo Abe said
Monday
that Japan will provide six patrol vessels to Vietnam as part of a fresh yen-loan offer totaling around 117 billion yen ($1 billion) to the Southeast Asian country to help its maritime safety efforts amid China's expanding activities at sea.
"Japan will strongly support Vietnam's enhancement of maritime law-enforcing capabilities," Abe said at a press conference following talks with Vietnamese counterpart Nguyen Xuan Phuc in Hanoi, held at a time when uncertainty is looming over incoming U.S. President Donald Trump's commitment to the stability of the Asia-Pacific region.
Phuc said he agreed with Abe on the necessity of respect for "freedom of navigation and peaceful means" and opposition to the use of force in resolving disputes in the South China Sea.
China claims almost the entire body of water in the region. Vietnam, along with the Philippines, Malaysia and Brunei, also contest parts of it.
Vietnam is Abe's last stop on a four-nation tour that also took him to the Philippines, Australia and Indonesia, all key Asia-Pacific countries with which Abe is seeking to strengthen ties against the backdrop of the rise of China and uncertainties over Trump's Asian policy.
Amid concerns about the possible shift to a protectionist U.S. trade policy under Trump, the leaders also agreed to promote free trade, including the U.S.-led Trans-Pacific Partnership and the Regional Comprehensive Economic Partnership, of which both countries are members.
RCEP is an Asia-Pacific pact that excludes the United States but includes China.
The outlook for the TPP is dim as Trump, who takes office
Friday
, has vowed to reject the deal in its current form.
Vietnam has yet to submit a proposal for the ratification of the TPP to the National Assembly.
With the fresh pledge of 117 billion yen, Japan's yen-loan agreements to Vietnam for the year ending March 2017 total 250 billion yen, Japanese officials said.
Aside from strengthening Vietnam's efforts for maritime security and safety, the loans are to be used to enhance the country's water management system and efforts against climate change, the officials said.
"Japan is Vietnam's biggest donor. Japan will continue to support Vietnam's economic development through public-private efforts, focused on quality infrastructure," Abe said.
Abe also vowed to strengthen Japan's cooperation in the energy sector. Vietnam's decision last year to withdraw contracts to build nuclear power reactors with Japanese assistance has provided a blow to the government of Abe who views the export of infrastructure as a pillar of his economic growth strategy.
Although Japan is not a claimant in the disputes in the South China Sea, it is also concerned about China's increasing military presence in the busy shipping lane and is keen to maintain a rules-based order at sea.
Tokyo itself is involved in a dispute with Beijing over the Japanese-controlled Senkaku Islands in the East China Sea that are claimed by China, which calls them Diaoyu.
Later
Monday
, Abe met with Nguyen Phu Trong, general secretary of the Communist Party of Vietnam, and President Tran Dai Quang to help strengthen the bilateral relationship. (Kyodo News)