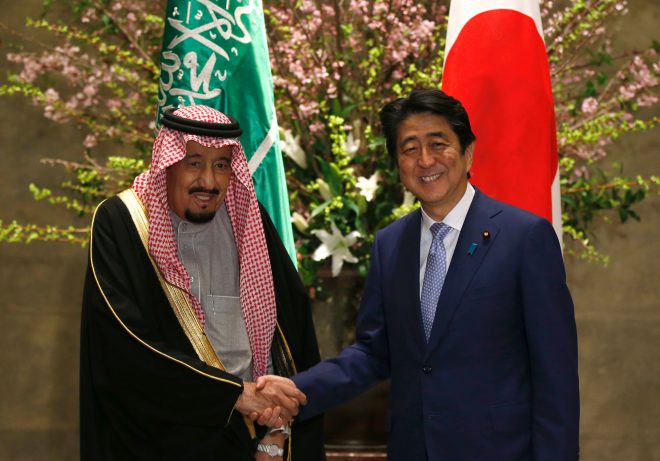 March 14, 2017
TOKYO- Japanese Prime Minister Shinzo Abe, at a meeting with visiting Saudi King Salman bin Abdulaziz al-Saud on Monday, offered Japan's public-private cooperation to help Saudi Arabia realize its exit from an oil-reliant economy.
Japan's cooperation will mainly cover nine areas including infrastructure development and the strengthening of industrial competitiveness.
Taking the opportunity of a Saudi king's first Japan trip in 46 years, Tokyo,for its part, aims to expand business opportunities for Japanese companies by offering to play a role in the Saudi economy's structural reform.
Abe and King Salman agreed to beef up their countries' security cooperation, including the resumption of subcabinet-level talks, while defining the bilateral relationship as a strategic partnership. They also agreed to cooperate for stabilizing Middle East situations.
"We hope to powerfully advance our country's relations with Saudi Arabia, which is a cornerstone for stability in the Middle East," Abe said in his opening remarks at the meeting.
The king said Japan is a core partner of his country in the fight against terrorism.
On Monday
, the two governments released a Japan-Saudi cooperation initiative, including review of regulations in Saudi Arabia, with a view to facilitating Japanese companies' expansion into the Persian Gulf state.
During the summit meeting, King Salman assured his country's stable oil supplies to Japan.
Abe called for resuming free trade talks between Japan and the six-member Gulf Cooperation Council, including Saudi Arabia, as well as progress in negotiations to conclude a bilateral nuclear cooperation pact.
Meanwhile, the king vowed to positively examine the idea of listing state-owned oil company Saudi Aramco on the Tokyo Stock Exchange.
On North Korea's latest ballistic missile launches, Abe pointed out that the isolated country has become a new level of threat. King Salman expressed opposition to North Korea's nuclear and missile development.
Following the summit meeting, the two governments signed a memorandum of understanding, chiefly on a visa extension. (Jiji Press)