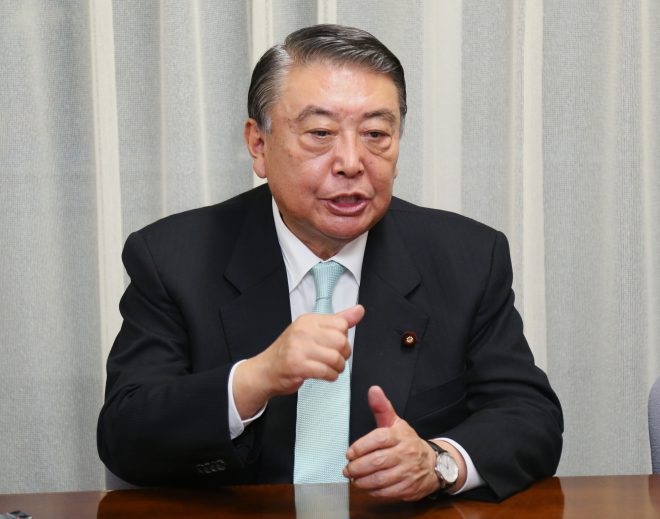 February 28, 2017
TOKYO- Tadamori Oshima, speaker of Japan's House of Representatives, the lower chamber of the Diet, the country's parliament, on Monday showed a plan to convene a meeting of representatives from both ruling and opposition parties on Thursday and Friday for discussions on legislation enabling Imperial abdication.
He conveyed the plan to Toshimitsu Motegi, chairman of the ruling Liberal Democratic Party's Policy Research Council, when they met the same day.
Lower House Vice Speaker Tatsuo Kawabata showed the plan to senior officials of opposition parties, including Yoshihiko Noda, secretary-general of the biggest opposition Democratic Party.
Oshima told Motegi that the heads and deputy heads of the Lower House and the House of Councillors, the upper chamber, will report at the proposed meeting a summary of views on the abdication issue to each party and parliamentary group as a basis for further discussions.
Noda told reporters, "We hope to hold constructive discussions."
On February 20, the four Diet leaders conducted hearings from eight parties, and two parliamentary groups in the Upper House about legislation on abdication.
Oshima, Kawabata, Upper House President Chuichi Date and Upper House Vice President Akira Gunj are aiming to come up with the Diet's unified view on the issue by mid-March.
The ruling LDP, its Komeito ally and opposition party Nippon Ishin no Kai support the government's plan to set up a special one-time law to allow only current Emperor Akihito to step down.
Meanwhile, four opposition parties—the DP, the Japanese Communist Party, the Liberal Party and the Social Democratic Party—have proposed that a permanent system to enable the current and future Emperors to abdicate be established through a revision of the Imperial House Law.
In a rare video message broadcast in August last year, Emperor Akihito expressed his strong hope to step down due to his advancing age. No succession from a living Emperor has taken place for about 200 years. Emperor Akihito turned 83 last December. (Jiji Press)