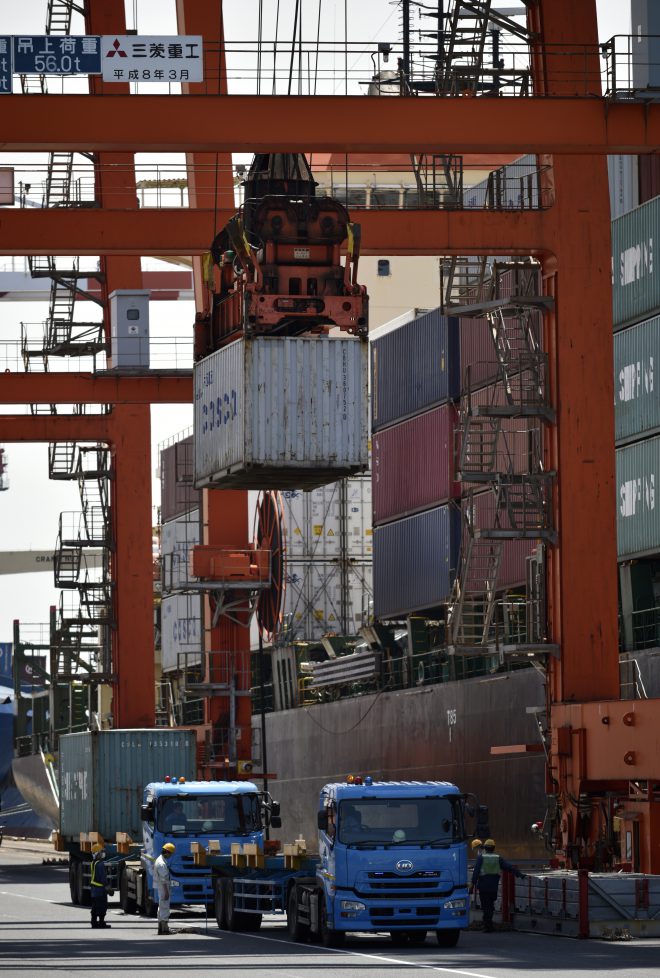 April 21, 2017
Tokyo- 
Japan posted a customs-cleared trade surplus of 4,006.9 billion yen in fiscal 2016, which ended last month, enjoying the first fiscal-year black ink since the March 2011 massive earthquake and tsunami, government data showed
Thursday
.  Japan's trade surplus with the United States shrank 8.2 percent from the previous year to 6,629.4 billion yen, the Finance Ministry said in a preliminary report.
The surplus with the United States, which has been under the spotlight since the election last November of US President Donald Trump who campaigned on an "America First" trade policy, marked the first reduction
in five years
.
Japan's trade deficit with China narrowed 30.4 percent to 4,220.2 billion yen, the first shrinkage
in six years
.
On the back of the yen's appreciation and a fall in commodity prices, Japan saw its overall imports plunge 10.2 percent to 67,517.9 billion yen, down for the third straight year.
In particular, imports of liquefied natural gas dived 26.6 percent, and those of crude oil slumped 16.1 percent.
Overall exports dropped 3.5 percent to 71,524.7 billion yen, down for the second consecutive year.
Vehicle exports, mainly to the United States, fell 6.3 percent due to the strong yen. Steel exports slumped 13.3 percent.
However, auto parts exports increased. Exports of engines and other auto parts have been growing, mainly to the United States, as the localization of vehicle assembly has been spreading among Japanese automakers, a ministry official said.
In the five years through fiscal 2015, Japan's trade deficits were largely attributed to elevated fuel imports due to nuclear plant shutdowns since the natural disaster triggered a triple meltdown at Tokyo Electric Power Company Holdings Inc.'s Fukushima No. 1 nuclear power station in March 2011.
The deficit peaked at 13,756.4 billion yen in fiscal 2013 before shrinking to 1,105.2 billion yen in fiscal 2015.
In March alone, Japan logged a trade surplus of 614.7 billion yen, down 17.5 pct from a year before.
Exports rose 12.0 percent to 7,229.1 billion yen, while imports grew 15.8 percent to 6,614.4 billion yen.
The surplus with the United States shrank 8.1 percent to 628.1 billion yen, with exports up 3.5 percent and imports up 16.3 percent.
In trade with mainland China, Japan posted a deficit of 319.8 billion yen, smaller than the year-before deficit of 352.4 billion yen. Exports expanded 16.4 percent, and imports rose 10.3 percent. (Jiji Press)