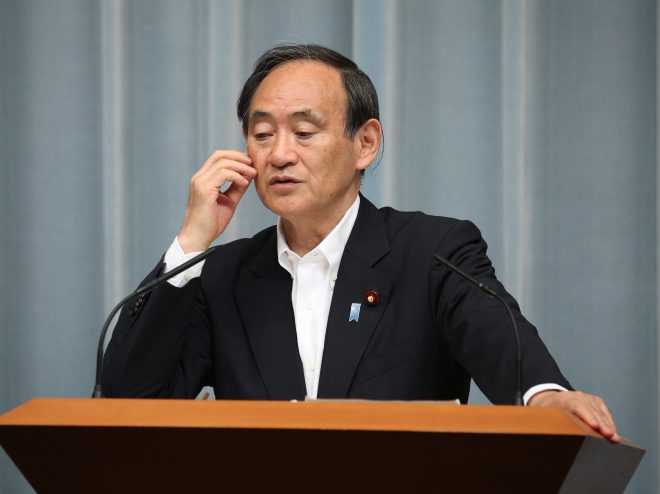 April 29, 2017
TOKYO- The Japanese government lodged a strong protest
on Saturday
against North Korea's latest ballistic missile launch through the embassies in Beijing.  At a news conference in Tokyo, Chief Cabinet Secretary Yoshihide Suga condemned the missile launch as a clear violation of UN Security Council resolutions. North Korea's repeated provocations can never be permissible, he said.
Suga stressed the government's resolve to continue the surveillance of North Korean activities and remain on high alert for emergencies.
According to the top government spokesman, North Korea is believed to have fired a ballistic missile in a northeastern direction from a site near Bukchang at around
5:30 a.m.
Saturday
(
8:30 p.m.
Friday
GMT) and the missile apparently fell into an inland area about 50 kilometers away.
The missile test has no direct impact on Japan, Suga said.
Defense Minister Tomomi Inada told reporters that the missile launch possibly failed.
The government convened a meeting of the National Security Council at the prime minister's office to gather and analyze related information, including the type of the missile and North Korea's intentions behind the launch.
Participants at the NSC meeting included Suga, Inada and Deputy Prime Minister and Finance Minister Taro Aso.
After the meeting, Suga told a second news conference that Japan will work closely with the countries concerned, including the United States and South Korea, to urge North Korea to exercise self-restraint. He suggested that Japan will also seek cooperation from China and Russia.
Japanese Prime Minister Shinzo Abe, during a visit to Britain, instructed government officials to do all they can to gather and analyze information on North Korea's latest missile launch and provide the public with accurate information quickly.
Abe also ordered thorough checks on the safety of aircraft and ships and full preparations for emergencies. (Jiji Press)