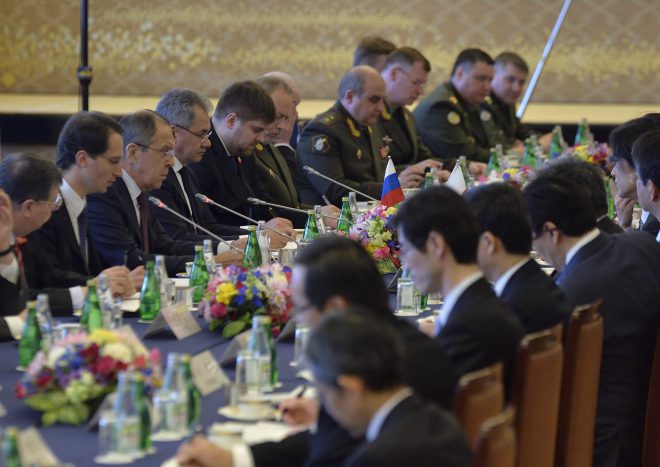 March 19, 2017
TOKYO- Japan and Russia presented their respective proposals in their first official talks in Tokyo
Saturday
on planned joint economic activities on four northwestern Pacific islands at the center of their territorial dispute.
The Japanese list includes projects in areas such as fishing, tourism and medical care. They are believed to include sea urchin and scallop farming, informed sources said.
Russia's list of proposals includes housing construction and renovation projects.
There was common ground in many of the proposals presented, Japanese Deputy Foreign Minister Takeo Akiba told reporters after the meeting. But he said that the two countries have yet to make any decision.
The two sides also agreed to consider ways to make visits to family graves by former Japanese residents of the four islands easier, including the use of aircraft.
From the Japanese side, Eiichi Hasegawa, special adviser to Prime Minister Shinzo Abe, also joined the talks. Russian participants included Deputy Foreign Minister Igor Morgulov.
At the beginning of the talks, Akiba said that Japan intends to move forward toward achieving the two countries' common goal of concluding a peace treaty, while maintaining the principle of not undermining each side's legal positions in the joint economic activities.
Morgulov said that any projects in the joint economic activities should be carried out under conditions that they are not inconsistent with Russian law.
The two countries plan to discuss legal matters to implement the proposed projects. Specialists, including private-sector officials, will be invited for further discussions.
The next round of talks will be held in Moscow, but the date has yet to be fixed.
The joint activities are designed to help the two countries resolve the territorial dispute and conclude a peace treaty to formally end their wartime hostilities.
The dispute over the four islands, which were seized from Japan by Soviet troops in the closing days of World War II, has prevented Tokyo and Moscow from concluding the peace treaty.
In their summit meeting held in Japan in December, Abe and Russian President Vladimir Putin agreed to start the talks on the joint economic activities.
The Japanese government hopes to gain concessions from Russia on the territorial dispute by promoting economic cooperation between the two countries, sources familiar with the situation said. (Jiji Press)