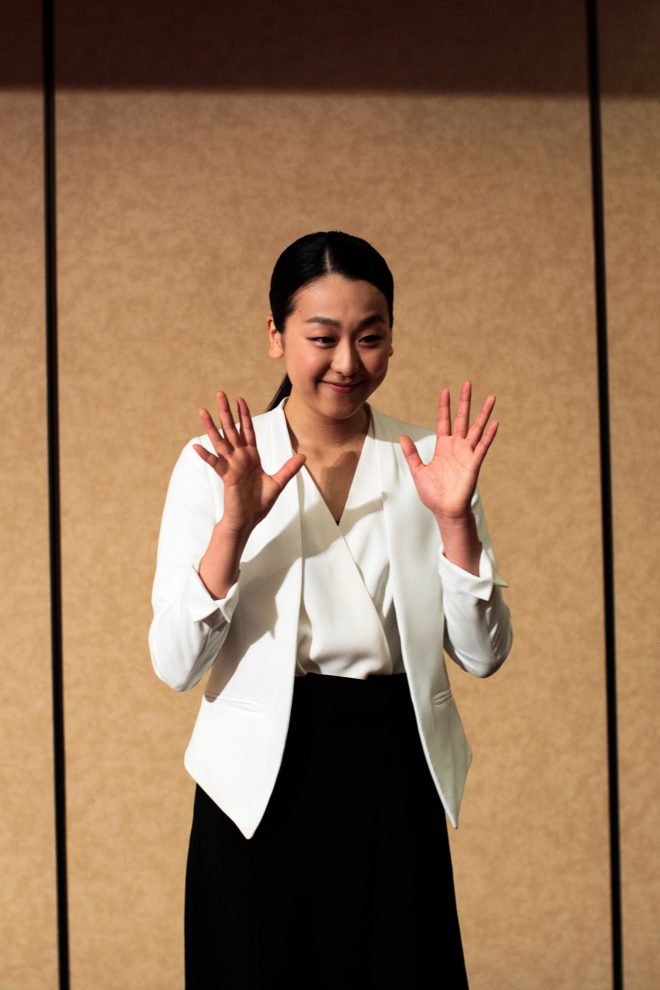 April 11, 2017
TOKYO- 
Monday's
abrupt announcement by Japanese female figure skating icon Mao Asada of her decision to retire from competition has saddened many people in the country, including other skaters and locals in her hometown.
"You've really done great for such a long time," Miki Ando, a former figure skater who vied with Asada in many competitions, said on her Instagram account.
"You must have struggled so much to reach your decision," Ando said, adding, "I'm proud that I was a skater in the same period as Mao and played with her for Japan."
Wakaba Higuchi, a figure skater who finished second in Japan's national championships last year, thanked Asada on Twitter, saying that she admires her character and her performances that moved people.
"I'll never forget your performances that I have watched since I was a kid as a fan. Thank you very much," wrote Higuchi, a high school student.
Nobunari Oda, who finished seventh in the men's figure skating in the 2010 Vancouver Olympics, tearfully talked about his feelings on Asada's retirement.
"I'm so sad that I won't be able to see her in figure skating competitions," Oda told reporters in the western Japan city of Osaka.
Oda, now a professional skater, also tweeted: "Thank you so much, Mao. I'll continue to like your skating very much."
Saori Yoshida, a female wrestler who won her third straight Olympic gold medal in the 2012 London Games, also feels sad about Asada's retirement.
"You've done really, really great," Yoshida said on her Twitter account.
People in Asada's hometown of Nagoya, the capital of Aichi Prefecture, central Japan, also voiced sadness over her retirement and appreciation of her long career.
Kazuo Inoue, the 70-year-old owner of Gorakutei, a restaurant near a skating rink in Nagoya's Naka Ward, which Asada had used to practice, spoke about his memories of the skating star.
He said: "She loved our fried rice since early times, and she used to come with her mother and sister when she was elementary and junior high school students. She was very polite and always enjoyed the fried rice."
Inoue said he was surprised by her sudden retirement announcement, adding he wanted her to continue until the 2018 Pyeongchang Olympics.
"I'm sad because I've watched her performances for a long time since she was a kid, and I've had special affection for her because she's from Nagoya" said Tsuneo Takeichi, 67, who manages a restaurant business in the town of Kanie in the prefecture.
"She gave us not only results, but also excitement," said a company worker in his 50s in Nagoya. "There has never been a skater loved so much." (Jiji Press)