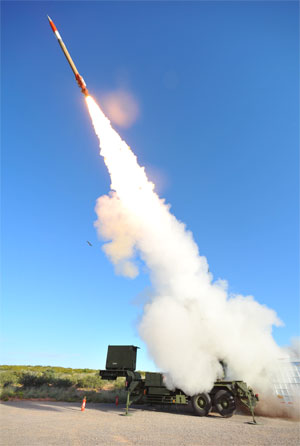 February 5, 2017
Tokyo- Japan's Acquisition, Technology and Logistics Agency said
Saturday
that it has successfully conducted a test of the Standard Missile-3 Block 2A missile interception system off Hawaii.
The Block 2A system, being developed jointly by Japan and the United States, is intended to shoot down short- and medium-range ballistic missiles.
Japan will mount the system on Aegis destroyers of the Maritime Self-Defense Force by fiscal 2021, apparently targeting missiles from North Korea.
In the latest test, the SM-3 Block 2A system mounted on a U.S. Aegis ship successfully intercepted a mock target launched from Kauai, one of the main Hawaiian Islands, shortly past
5 p.m.
Saturday
Japan time (
8 a.m. GMT
), said officials of the agency, affiliated with the Japanese Defense Ministry.
This was the first offshore test of the missile defense system, according to the officials. (Jiji Press)