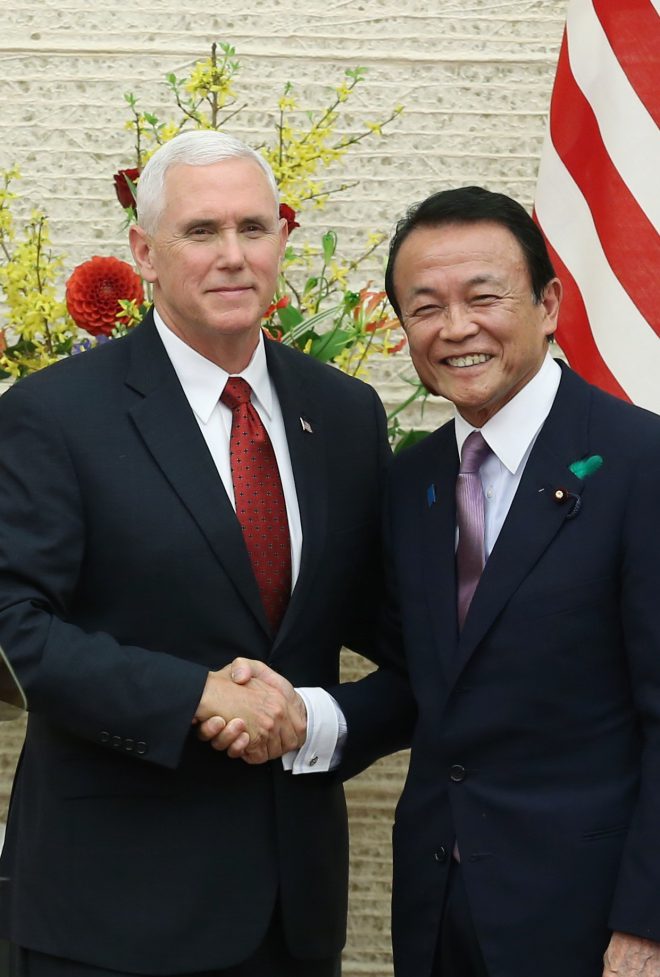 April 19, 2017
Tokyo- 
Visiting US Vice President Mike Pence
on Tuesday
indicated the possibility that his country's economic dialogue with Japan may develop into a bilateral free trade agreement.
"Today, we are beginning a process of economic dialogue, the end of which may result in bilateral trade negotiations in the future," Pence told a joint press conference with Deputy Prime Minister and Finance Minister Taro Aso.
Pence made the remark after the first meeting of the bilateral economic dialogue that he had with Aso.
At the meeting, the two sides agreed to structure the dialogue based on three pillars--a common strategy on trade and investment rules and issues, cooperation in economic and structural policies, and sectoral cooperation in areas with potential for creating jobs.
The next meeting is set to take place by the end of this year in the United States. Given Pence's remark, Washington may press Japan to take drastic market-opening measures for automobiles and agricultural products.
The economic dialogue was launched in line with an agreement between Prime Minister Shinzo Abe and President Donald Trump at their summit in Washington in February.
The day's meeting was attended by Aso and Pence, who are designated as the two countries' top representatives in the dialogue. There was no discussion on currency policies, a topic Japan wanted to avoid.
"Japan-US economic relations represented by friction are in the distant past and we are now entering an era of cooperation," Aso told the press conference with Pence.
Tokyo and Washington "will lead strong economic growth in the Asia-Pacific region as well as in the world" through the bilateral dialogue, Aso also said.
The two countries will "exercise their leadership to spread free and fair trade rules across the Asia-Pacific region," the deputy prime minister went on.
Pence said the Trans-Pacific Partnership free trade deal "is a thing of the past," for the United States. He stressed that a bilateral FTA with Japan would be beneficial to his country.
According to Japanese government sources, the Trump administration has not decided on details of its request to Japan in trade due to the delay in congressional approval for senior officials.
Washington is likely to be fully prepared from the next meeting and take a tough stance, urging Japan to expand imports of rice, beef and automobiles, the sources said.
In a joint press release issued after
Tuesday's
meeting, the two sides said the economic dialogue "should generate concrete results in the near term."(Jiji Press)