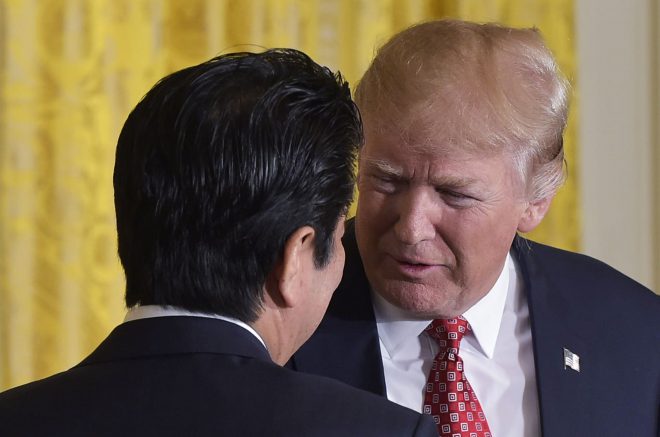 February 11, 2017
Washington -- Japanese Prime Minister Shinzo Abe and US President Donald Trump agreed Friday to launch a new dialogue scheme to discuss ways to expand investment and employment in the United States, as well as trade between the two countries.
The agreement came in line with the new president's "America first" policy with emphasis on boosting infrastructure development and creating jobs at home, as well as reducing US trade deficits.
It also followed Trump's recent claim that Japan has been imposing unfair trade barriers on US automobiles and trying to weaken the yen.
Also at their first summit since Trump took office on Jan. 20, the two leaders confirmed that the Japan-US security treaty applies to the Senkaku Islands administered by Japan but claimed by China .
Trump accepted Abe's invitation to pay his first presidential visit to Japan later this year.
Following the talks at the White House, the two leaders issued a joint statement showing "their strong determination to further strengthen the US-Japan Alliance and economic relationship."
In the statement, the two leaders affirmed that Article 5 of the Japan-US security treaty, which stipulates the United States' obligation to defend Japan, "covers the Senkaku Islands" in the East China Sea.
"The US commitment to defend Japan through the full range of US military capabilities, both nuclear and conventional, is unwavering," the joint statement also said.
According to the Japanese side's briefing, the new economic dialogue, to be led by Japanese Deputy Prime Minister Taro Aso and US Vice President Mike Pence, will cover macroeconomic policy coordination, cooperation in the fields of infrastructure, energy, cyberspace and outer space, and a bilateral trade framework.
A focal point is whether the new initiative will lead to bilateral free trade talks, now that Trump has withdrawn his country from the Trans-Pacific Partnership free trade pact, signed by the United States, Japan and 10 others last year.
Japan and the United States will hold "a cross-sectoral dialogue" to further deepen bilateral economic relations, Abe stressed at a joint press conference with Trump following the summit.
"With our (country's) high level of technical capability, we will be able to contribute to President Trump's growth strategy. There will be even more new jobs being born in the United State ," Abe said. He did not present specific contribution measures at the summit meeting.
Trump called for Japanese efforts to address the trade imbalance in favor of Japan , though he did not put forward specific requests. "We will seek a trading relationship that is free, fair and reciprocal, benefitting both of our countries," Trump told the press conference.
The two leaders did not hold in-depth discussions on currencies and agreed to leave the issue to their finance ministers. Jiji