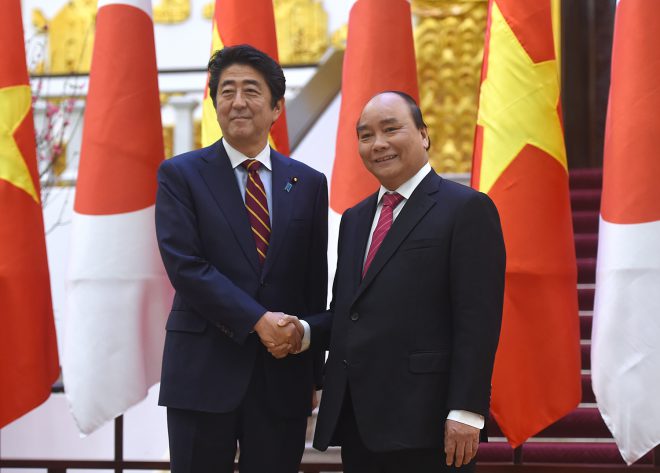 January 16, 2017
HANOI
- Japanese Prime Minister Shinzo Abe and Vietnamese counterpart Nguyen Xuan Phuc met
Monday
in Hanoi, where they are expected to
discuss a coordinated response to China's maritime expansion amid uncertainty about incoming U.S. President Donald Trump's commitment to the stability of the Asia-Pacific region.
At the summit, Japan is set to announce a fresh offer of patrol vessels to the Southeast Asian country, embroiled in a territorial row with China in the South China Sea, to help strengthen its maritime law-enforcement capabilities, Japanese officials said.
Vietnam is Abe's last stop on a four-nation tour that also took him to the Philippines, Australia and Indonesia, which are, along with Vietnam, key Asia-Pacific countries Abe seeks to strengthen ties with amid the rise of China and uncertainties over Trump's Asian policy.
Amid concerns about the shift to a protectionist U.S. trade policy under Trump, the leaders are likely to discuss the promotion of free trade, including the U.S.-led Trans-Pacific Partnership and the Regional Comprehensive Economic Partnership, of which both countries are members, the officials said.
RCEP is an Asia-Pacific mega-pact that -- unlike the TPP -- excludes the United States but includes China.
The outlook for the TPP is dim as Trump, who takes office
Friday
, has vowed to reject the deal in its current form.
Vietnam is yet to submit a proposal for the ratification of the TPP to the National Assembly.
In addition to strengthening security dialogues and defense cooperation, Abe is set to vow Japan's cooperation for infrastructure development in Vietnam, including over its sewage system and Hoa Lac high-tech park development project in the outskirts of Hanoi, the officials said.
Vietnam's decision last year to withdraw the contracts to build the nuclear power reactors with Japanese assistance has set a blow to the government of Abe who sees export of infrastructure as a pillar of his economic growth strategy.
Although Japan is not a claimant in the disputes in South China Sea involving China, Vietnam and four other governments, it is also concerned about China's increasing military presence in the busy shipping lane and keen to maintain a rules-based order at sea.
Tokyo itself is involved in a dispute with Beijing over the Japanese-controlled Senkaku Islands in the East China Sea that are claimed by China, which calls them Diaoyu.
Later
Monday
, Abe will also meet Nguyen Phu Trong, President Tran Dai Quang and other top officials to strengthen the bilateral relationship.
Japanese Prime Minister Shinzo Abe and Indonesian President Joko "Jokowi" Widodo agreed
Sunday
to boost coordination on maritime security amid tension over China's military buildup in disputed waters of the South China Sea.
With their talks taking place ahead of the inauguration
on Friday
of Donald Trump as U.S. president, the leaders also agreed on the importance of keeping close communication with the incoming U.S. administration for the maintenance of peace and stability in Asia, a senior Japanese official who attended the meeting told reporters. (Kyodo News)