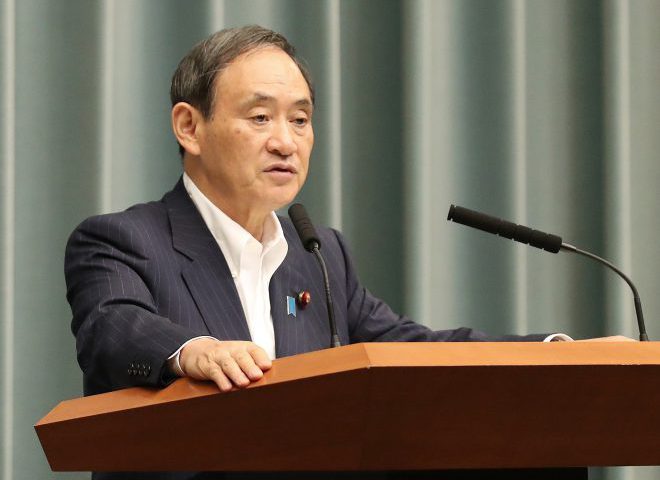 May 10, 2017
Tokyo- Japanese Prime Minister Shinzo Abe plans to call on new South Korean President Moon Jae-in to implement the 2015 bilateral agreement on the issue of so-called comfort women, the Japanese government's top spokesman indicated Wednesday. The Japanese government will not renegotiate the agreement although Moon, who took office the same day, pledged to do so during his election campaign, Chief Cabinet Secretary Yoshihide Suga also suggested at a press conference.
"When the opportunity arises, Japan will persistently urge South Korea to implement the agreement," Suga said. "It will be natural (for the two leaders) to reaffirm that it (the agreement) should be promoted responsibly."
The comfort woman agreement is highly evaluated by the international community, including the United States, he said, adding that it is important for Japan and South Korea to implement it in a responsible manner.
The landmark agreement calls for "finally and irreversibly" resolving the comfort woman issue. The term "comfort women" refers to women, mostly from the Korean Peninsula, who were forced to serve as prostitutes for the Japanese military before and during World War II.
At a liaison meeting between the government and ruling parties, Abe said the government hopes to work with South Korea in dealing with North Korea as a neighboring country that shares common strategic interests. He added that he hopes to develop a future-oriented Japan-South Korea relationship.
Japanese Foreign Minister Fumio Kishida said he is aware that Moon is regarded as favoring a softer approach toward North Korea.
Noting that South Korea is an important neighbor that shares strategic interests with Japan, Kishida said Japan needs to work closely with the new administration. He was speaking at a meeting of the Foreign Affairs Committee of the House of Representatives, the lower chamber of parliament. (Jiji Press)