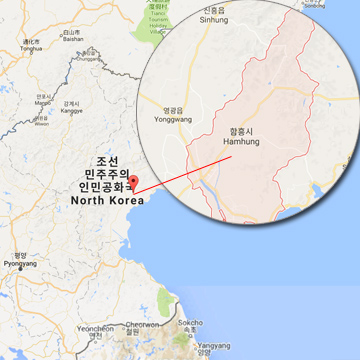 April 19, 2017
HAMHUNG, NORTH KOREA- 
An 84-year-old Japanese descendant living in North Korea told a group of visiting Japanese journalists
on Wednesday
that she wishes to visit the grave of her parents from Kumamoto Prefecture, southwestern Japan.
North Korea arranged the rare press opportunity in the eastern city of Hamhung, in an apparent bid to seek a breakthrough in its stalled dialogue with Japan.
The woman, born in Seoul, said that she was unable to travel to Japan in the aftermath of World War II. She expressed her hope that Japan and North Korea will become close.
On Tuesday
, the Japanese journalists were allowed to visit an area in the eastern province of South Hamgyong where the remains of Japanese people who died there after the end of the war are buried.
Speaking to the reporters, a local official called for efforts to repatriate the remains soon, describing the current situation as heart-wrenching.
According to the official, 1,445 Japanese nationals died of starvation or disease in the area between August 1945, when Japan surrendered in the war, and 1946.
The Japanese and North Korean governments have made little progress on the remains issue, against a backdrop including their rift over North Korea's nuclear and missile programs, as well as its past abductions of Japanese nationals.
The local official said that it would be good for the two countries to normalize their diplomatic relations and resolve the remains issue promptly. (Jiji Press)