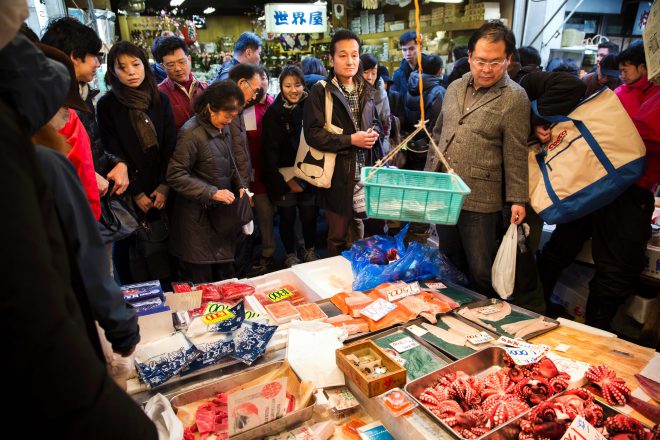 March 15, 2017
TOKYO- Some countries and regions still maintain import bans on Japanese fishery and agricultural products, six years after Japan's worst nuclear accident at Tokyo Electric Power Company Holdings Inc.'s disaster-stricken Fukushima No. 1 plant.
 Safety concerns over Japanese products remain especially strong in China and other neighboring economies, leaving Japanese fishery and farm producers mired in tough business conditions.
There are signs of hope, however, with some producers enjoying export growth after exploring new markets, industry sources said.
Miyagi Prefecture was the largest producer of sea squirts before the March 2011 earthquake and tsunami. Some 70 pct of Japan's production of sea squirts was exported to South Korea.
But in 2013, South Korea stopped imports of fishery products from eight prefectures in Japan, including Miyagi, Iwate and Fukushima, the three northeastern prefectures hit hardest by the disaster.
In Miyagi last year, some 7,600 tons of sea squirts were hauled ashore for disposal because markets had been lost.
"We were asked to cut prices based on the idea that sea squirts can't be sold elsewhere," says Masao Atsumi, 39, who farms sea squirts in Samenoura Bay in the Miyagi city of Ishinomaki.
While seeking to find new revenue sources, such as sea cucumber fishing, Atsumi says, "We are looking forward to the lifting of the South Korean import ban."
According to Japan's fishery ministry, 54 countries and regions imposed restrictions on imports of Japanese agricultural and fishery products soon after the disaster.
The number has currently fallen to 33 countries and regions, with many easing regulations and allowing imports of Japanese products with certificates of origin.
Last year, the European Union, known for strict food safety standards, decided to relax such regulations drastically.
But China, Taiwan, Hong Kong, Macao, South Korea, Singapore and Russia keep their markets closed to certain farm and fishery products from specific Japanese regions.
Those economies continue bans on imports of Japanese products in order partly to avoid criticism for taking a weak stance against the Japanese government, sources familiar with the situation said.
After the government of Taiwanese President Tsai Ing-wen announced last November that it was considering lifting an import ban on products from four Japanese prefectures, it faced strong opposition from Kuomintang, or the Chinese Nationalist Party, which took a positive position on removing the ban when it was in power.
"Japanese food products have become a political issue," a person familiar with Japan-Taiwan relations says.
Heightened awareness of food safety is also behind the import bans on Japanese food.
In China, which suffered a series of infant deaths caused by baby formula in 2008, concerns about food safety are increasing due in part to an expansion of middle-income consumers who prioritize product quality.
Although the safety of Japanese food products has now been confirmed, "worries about radioactive substances remain strong," a person familiar with Japan-China relations says.
Taiwan was rocked by the revelation in 2014 that substandard cooking oil extracted from waste oil had been distributed to many restaurants.
Against this background, Southeast Asian countries are becoming attractive markets for Japanese products as they have fewer political problems with Japan than Tokyo's neighbors.
Fukushima Governor Masao Uchibori visited Thailand in May last year as part of a promotion campaign for peaches grown in his prefecture, home to the TEPCO nuclear plant, which was heavily damaged by the March 2011 disaster.
By working with Japanese and Thai logistics companies and retailers, the prefecture succeeded in lowering local retail prices for Fukushima peaches to 400 baht for two peaches, down from 1,200 baht, by shifting from shipping by air to ocean shipping that uses cutting-edge freezer container technology.
"Although only wealthy customers used to buy Fukushima peaches, demand for the fruit as a gift has increased," says an official of Isetan Mitsukoshi Holdings Ltd.'s <3099> Isetan department store in Bangkok.
Peach exports from Fukushima to Thailand totaled 20 tons in 2016, up about 15-fold from the previous year, topping 9.9 tons exported just before the disaster to China, which was the largest importer.
With shipments of Fukushima peaches expanding to Malaysia and other Southeast Asian countries, officials of the prefecture hope they are finding a way out of the disaster-caused doldrums. (Jiji Press)