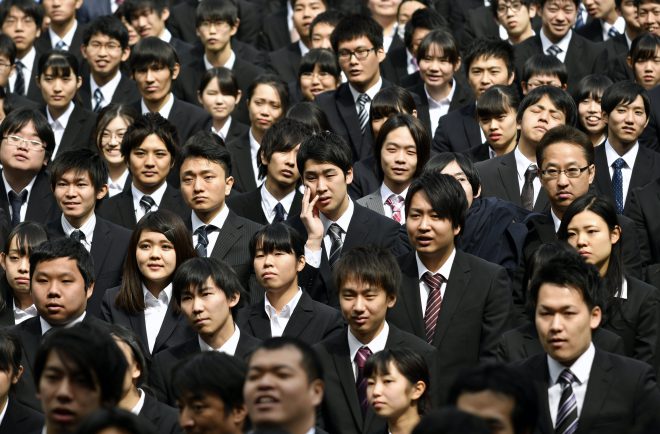 June 30, 2017
Tokyo- Japan's seasonally adjusted ratio of effective job openings to seekers in May rose to 1.49, the highest level since February 1974, while the jobless rate in the same month worsened for the first time 
in six months
, government data showed 
Friday
.
The May reading for the ratio was up 0.01 point from the preceding month, the Ministry of Health, Labor and Welfare said.
It rose for the third straight month.
The growth came as an increasing number of companies were switching to regular employees from part-timers amid labor shortages reflecting the country's moderate economic recovery.
The ratio of regular job openings to seekers went up 0.02 point to 0.99, the highest level since its calculation began in November 2004.
The Ministry of Internal Affairs and Communications separately said that the country's seasonally adjusted jobless rate stood at 3.1 pct, up 0.3 percentage point from April.
Noting that the jobless rate remains at low levels, an internal affairs ministry official said the rise in May reflected increases in the number of men looking for new jobs with better work conditions and that of housewives who have decided to enter the job market.
"The employment situation is steadily improving," the official said.
The job openings ratio shows the number of jobs available for each of the job seekers registered at Hello Work public job placement centers nationwide.
In May, the numbers of job offers and seekers fell 0.1 pct and 0.9 pct, respectively. Openings of regular jobs increased 0.4 pct, while seekers of such jobs decreased 1.2 pct.
New job offers jumped in the manufacturing industry, partly thanks to brisk automobile production, and in the transport and postal services industry, which continues to face labor shortages.
The job openings ratio surpassed 1.0 in all 47 prefectures of the country, both by place of employment and region where job offers were accepted.
The ratio by region where job offers were accepted was the highest in Fukui Prefecture, central Japan, at 2.09, and the lowest in the northernmost prefecture of Hokkaido, at 1.09.
The overall number of jobless people increased by 190,000 month on month to 2.05 million after seasonal adjustment.
Of the total, the number of people who voluntarily quit their jobs to search for new ones with better conditions went up by 80,000, and that of people who newly began to seek jobs, including housewives, also increased by 80,000.
Before seasonal adjustment, the number of regular employees in May rose by 500,000 from a year earlier to 34.37 million. Nonregular employees increased by 50,000 to 20.03 million. (Jiji Press)