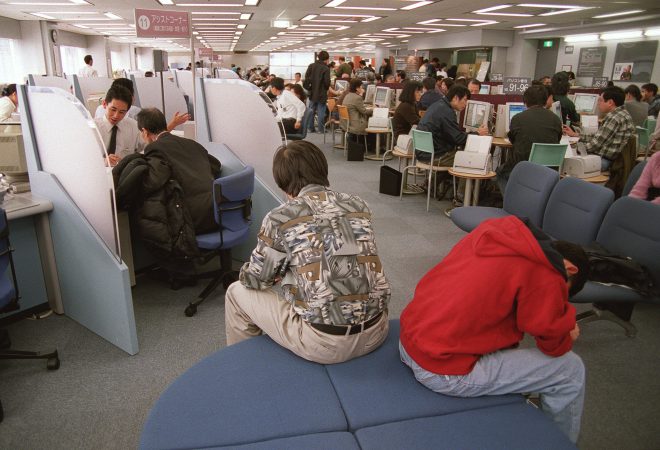 April 28, 2017
Tokyo- Japan's average monthly unemployment rate for fiscal 2016 came to three percent, the lowest level in 22 years, the internal affairs ministry said Friday.
The jobless rate, down 0.3 percentage point from the previous year, showed the best reading since fiscal 1994, when it stood at 2.9 percent, in its seventh straight year of improvement.
Separately, the labor ministry reported the same day that the country's average ratio of job openings to seekers in the year that ended last month rose 0.16 point from the previous year to 1.39, the highest score since it hit 1.43 in fiscal 1990, when Japan was still in an asset bubble-led boom.
Domestic industries, mainly the transportation and construction sectors, are facing labor shortages as the country's economy is expanding moderately while its working-age population and birth rate are declining.
"The employment situation is steadily improving," an internal affairs ministry official said.
In fiscal 2016, the 12-month average number of employed people rose 660,000 to 64.79 million, while that of jobless people fell 150,000 to 2.03 million.
Of the employed, regular workers stood at 33.88 million on average, up 470,000, and nonregular workers at 20.24 million, up 300,000.
According to the labor ministry, behind the job openings-to-applicants ratio's expansion were a 6.4 percent rise in employment opportunities posted at the HelloWork public job placement centers nationwide and a 5.6 pct decrease in seeker numbers.
Job vacancies increased in all industries, but the ratio of regular position openings to seekers remained low at 0.89.
The ministries also separately reported that in March the jobless rate stood at 2.8 percent, unchanged from the previous month, and the job openings-to-applicants ratio at 1.45, up 0.02 point, both on a seasonal adjustment basis. (Jiji Press)