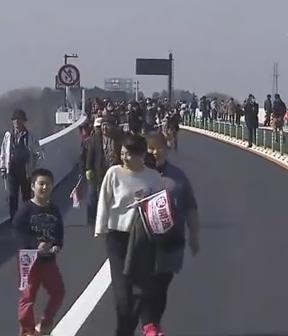 February 27, 2017
JOSO- A 28.5-kilomater section of the Kenoudo Expressway in Ibaraki Prefecture opened on Sunday, allowing the belt highway to link the six major expressways stretching from the Tokyo metropolitan area to various other regions in Japan.
Local people expect that the opening of the section between Sakai-Koga Interchange and Tsukuba-Chuo Interchange in the prefecture, north of Tokyo, will vitalize tourism and physical distribution in the northern Kanto region as access there from Narita International Airport in neighboring Chiba Prefecture will improve.
At a ceremony held at newly built Joso Interchange, Keiichi Ishii, transport minister, cut a ribbon with others.
The Kenoudo Expressway, whose construction started in 1989, is a circular road running through areas some 40 to 60 kilometers away from central Tokyo. With the Ibaraki portion's completion, the Tomei, Chuo, Kanetsu, Tohoku, Joban and Higashi-Kanto Expressways were connected.
"The section's opening is expected to ease traffic congestion and have various other favorite effects," Ishii told reporters.
For instance, after arriving at the Narita airport foreign visitors can visit Shonan, a popular tourist destination in Kanagawa Prefecture, south of Tokyo, without passing through congested central Tokyo, if they take Kenoudo. (Jiji Press)