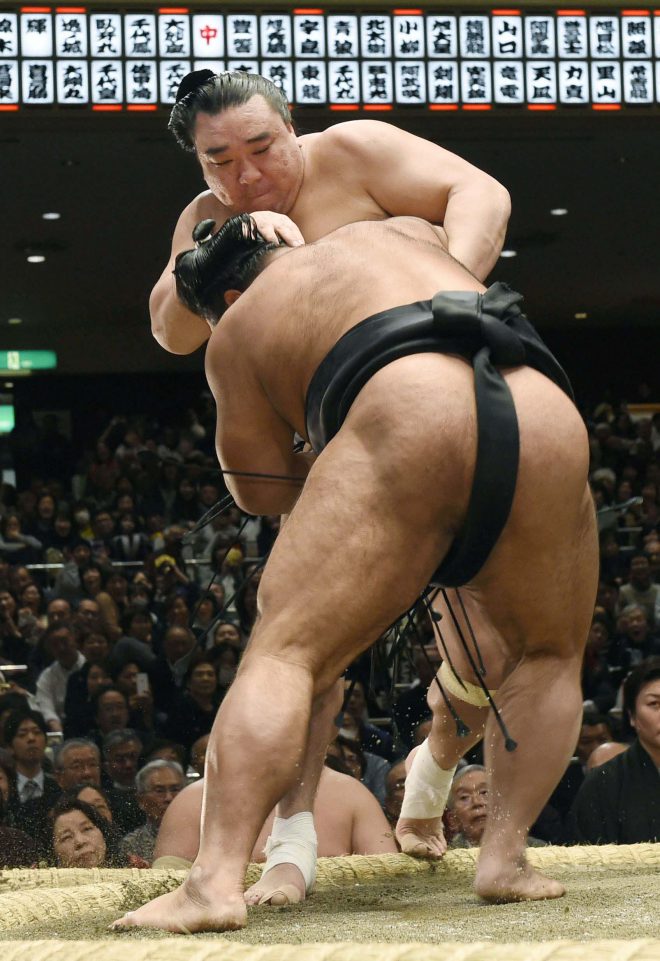 January 12, 2017
TOKYO
- Ozeki Kisenosato and yokozuna Hakuho were forced to work hard for their wins
Thursday
to remain in a five-way lead at the New Year Grand Sumo Tournament.
On the fifth day of the 15-day tourney, Kisenosato survived the powerful shoves of Mitakeumi (3-2), who has so far defeated two yokozuna and an ozeki, and finished the top maegashira off by edging him out of the ring at Ryogoku Kokugikan.
In the penultimate bout, Hakuho suffered a scare as he almost lost balance while trying to catch Shohozan (2-3), who also beat a yokozuna and ozeki at the ongoing meet, but the Mongolian grand champion managed to thrust the second-ranked maegashira down at the edge.
Kisenosato improved his record against Mitakeumi to 3-0, while Hakuho has won all 12 meetings with Shohozan.
Rank-and-filers Sadanoumi, Sokokurai and Takanoiwa all posted their fifth straight wins in consecutive bouts early in the makuuchi division.
No. 15 maegashira Sadanoumi bulldozed out 11th-ranked Nishikigi (2-3) for his first head-to-head victory in their fourth meeting.
Tenth-ranked Sokokurai from China's Inner Mongolia twirled down 14th-ranked Chiyotairyu (2-3) with an underarm throw, and No. 10 maegashira Takanoiwa slapped 14th-ranked Chiyootori (1-4) by the shoulder and sent him falling forward.
While other yokozuna and ozeki have generally been lackluster at this tourney, Mongolian grand champion Harumafuji (3-2) won his second straight after losing two in a row by flipping third-ranked Okinoumi (2-3) over to his side.
Ozeki Goeido took little time to force out Arawashi in their first career match and picked up his third win while handing the No. 2 maegashira his fifth loss.
On the downside, Mongolian yokozuna Kakuryu took his second consecutive defeat, stumbling to the ground after his slap missed hard-shoving komusubi Takayasu. Both wrestlers stand at 3-2.
Demotion-threatened Kotoshogiku (2-3) fell to top maegashira Takarafuji (1-4), and fellow ozeki Terunofuji got his fourth loss at the hands of sekiwake Tamawashi (4-1) in a battle of Mongolian grapplers.
Top flight newcomer Takakeisho (1-4) got his maiden makuuchi win as the No. 12 maegashira shoved out 16th-ranked Egyptian Osunaarashi. (Kyodo News)