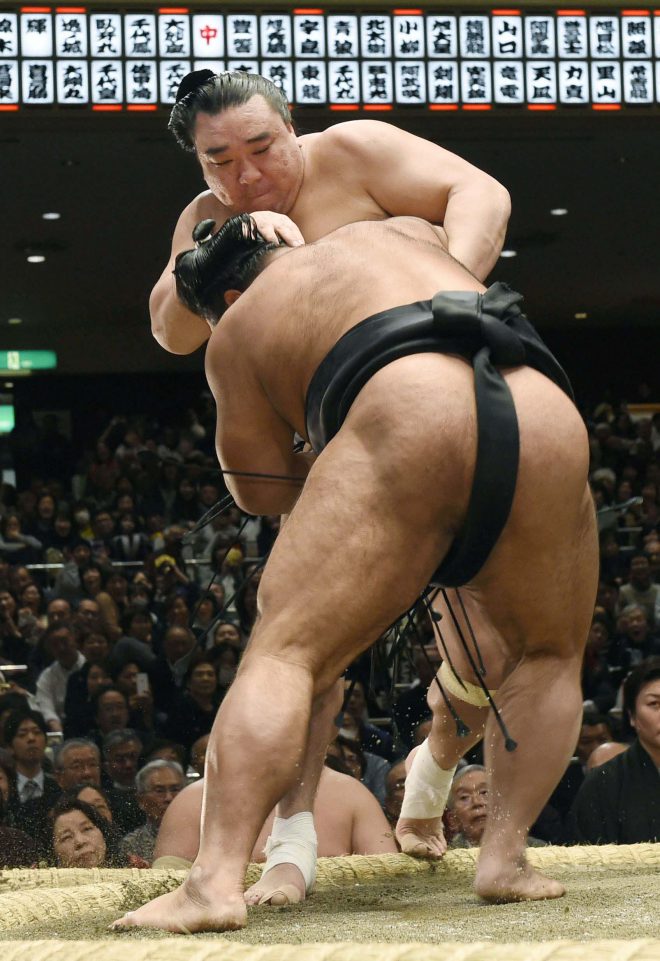 January 10, 2017
TOKYO- Veteran ozeki Kisenosato remained in the lead along with a pair of yokozuna on Tuesday, the third day of the New Year Grand Sumo Tournament.
Hakuho, looking to win his first grand sumo tournament since last May, stayed perfect in the 15-day event at Tokyo's Ryogoku Kokugikan as did Mongolian countryman and fellow yokozuna Kakuryu. Five maegashira wrestlers also improved to 3-0.
Kisenosato, who is seeking his first career championship, posted an easy win over No. 2 maegashira Arawashi (0-3). The ozeki's charge knocked Arawashi off balance and Kisenosato had little trouble forcing him from the ring.
After back-to-back wins over an ozeki and a yokozuna, 24-year-old, top-ranked maegashira Mitakeumi (2-1) offered little resistance to Hakuho. The yokozuna backed him to the straw with his initial charge and forced him out.
Kakuryu improved to 11-1 in his career against Takarafuji (0-3). Repeated shoves to the throat and jaw forced the top-ranked maegashira back to the straw on the tachiai, and from there he was easily dismissed.
A day after an unlucky defeat to Kakuryu, No. 2 maegashira Shohozan (2-1) collected Harumafuji's scalp. It was the second straight day in which the yokozuna, who fell to 1-2, lost the plot after a half-hearted attempt to throw his opponent and ended up being forced out of the ring.
Kotoshogiku, needing eight wins at this tournament to retain his premier ozeki status, earned his second, calmly throwing komusubi Tochinoshin (0-3). After the ozeki failed to force the Georgian out in one go, he took a half-step back and finished the bout with a nifty beltless arm throw.
Mongolian ozeki Terunofuji caught a break to earn his first win when No. 3 maegashira Okinoumi (1-2) clumsily lost his balance and could not regain it before he was out of the ring.
Takayasu (2-1) dug in his heels and turned the tables on Goeido (1-2), who failed to charge the komusubi out of the ring on the tachiai. When Goeido shifted his weight to take a different approach, Takayasu grabbed a left-hand underarm hold and used it to tip his opponent over for his second straight win over an ozeki.
Tamawashi (2-1) earned bragging rights in the battle between newly promoted sekiwake with a win over Shodai (1-2). The 32-year-old Tamawashi got Shodai by the throat on the tachiai to stand him up. The 25-year-old Shodai appeared clueless from that point on and was easily shoved backward out of the ring.
No. 15 maegashira Chiyoo earned his maiden makuuchi victory, improving to 1-2 after shoving out No. 13 Gagamaru (1-2). However, No. 12 maegashira Takakeisho, the juryo-division winner in November, remained winless in the top flight after being thrust down by No. 11. (Kyodo News)