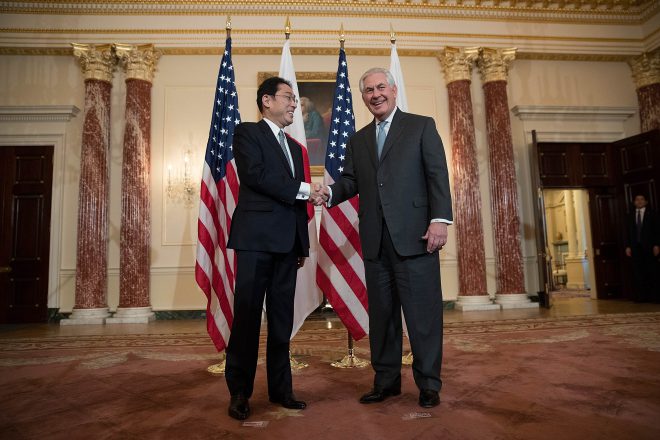 February 11, 2017
Washington- 
Japanese Foreign Minister Fumio Kishida and new US Secretary of State Rex Tillerson agreed
Friday
on cooperation to further enhance the bilateral alliance in an effort to help stabilize the situation in the Asia-Pacific region.
At their first meeting, held at the US Department of State in Washington , Kishida and Tillerson reconfirmed that the Japanese-administered Senkaku Islands in the East China Sea, claimed by China , are covered by the Japan-US security treaty's Article 5, which stipulates the United States ' defense obligations for territories under Japanese jurisdiction.
Such reaffirmation was made also at new US Defense Secretary James Mattis' meetings with Japan 's Prime Minister Shinzo Abe and Defense Minister Tomomi Inada during his visit to Tokyo earlier this month.
The Kishida-Tillerson meeting preceded a summit between Abe and US President Donald Trump, to be held at the White House later
on Friday
.
During the meeting that lasted about 30 minutes, Kishida and Tillerson shared the view that the security situation in the Asia-Pacific region is very tough due to North Korea 's nuclear and missile development programs and China 's growing activities in the East China Sea and the South China Sea .
They confirmed the need for trilateral collaboration among Japan , the United States and South Korea in dealing with North Korea .
Kishida stressed that the Trans-Pacific Partnership multilateral free trade pact has an economic and strategic significance. In response, Tillerson cited the importance of promoting economic relations between the United States and Japan .
Trump, who was sworn in as US president on Jan. 20, has decided on his country's permanent withdrawal from the TPP, which was signed by Japan, the United States and 10 other countries in February last year. (Jiji Press)