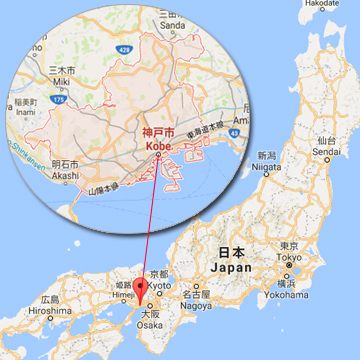 January 17, 2017
KOBE
- The western Japan city of Kobe and surrounding areas marked the 22nd anniversary
Tuesday
of the magnitude 7.3 earthquake that killed more than 6,400 people.
Many people observed a moment of silence at
5:46 a.m.
, the time when the temblor hit the major port city in Hyogo Prefecture on Jan. 17, 1995, with families of victims vowing to continue passing on memories of the so-called Great Hanshin Earthquake to future generations.
People affected by the massive quake-tsunami disaster in March 2011 and the major earthquake that hit Kumamoto Prefecture and its vicinity in April last year also joined in prayers for the victims.
A memorial event sponsored by the Kobe city government was held in a park in the city's Chuo Ward to observe the moment.
Representing bereaved families at a ceremony, Shinji Otorii, 58, spoke of his grief in losing his wife Yumiko, then 32, at their home in Kobe's Higashinada Ward.
"I wish I could see her and talk to her, even if it is in my dreams, or even if she is a ghost... I also want to hear what she wants to tell me," the now resident of Izumi, Osaka Prefecture, said.
Kobe Mayor Kizo Hisamoto said the slew of natural disasters in other parts of the country have made him realize danger is always present, adding the city will strengthen its disaster prevention measures and help other cities and areas.
Hyogo Gov. Toshizo Ido said Japan may not have been able to fully utilize what it has learned in the past, saying the unexpected happened in the earthquakes in eastern Japan and Kumamoto.
"We must come up with all possible scenarios and prepare for them," he said.
Separately, Chief Cabinet Secretary Yoshihide Suga told a press conference in Tokyo, "It's very important that we learn from the lessons of the past...and pass them on to future generations."
Suga urged people to store food, take part in emergency drills and take out disaster insurance as a part of measures to prepare for future disasters.
In addition to the 6,434 killed, the early morning quake left some 40,000 others injured and damaged 640,000 buildings. As many as 310,000 people were forced to find emergency shelter. (Kyodo News)