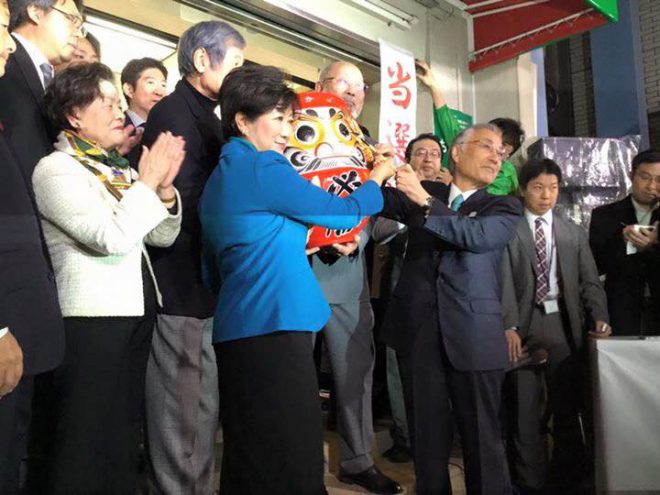 February 6, 2017
Tokyo- A candidate supported by Tokyo Governor Yuriko Koike easily won his fifth four-year term as mayor of Chiyoda Ward in the Japanese capital in a closely watched election
on Sunday
, likely providing a tailwind to the popular governor in the run-up to the
July 2
Tokyo metropolitan assembly poll.
The latest poll was widely viewed as a proxy battle between Koike and the Tokyo chapter of the nation's ruling Liberal Democratic Party.
Incumbent Mayor Masami Ishikawa, 75, who ran in the poll as an independent, beat his two competitors--company worker Makoto Yosano, a 41-year-old independent backed by the LDP, and former corporate employee Asao Igarashi, 41, also an independent.
Koike-backed Ishikawa garnered 16,371 votes, against 4,758 votes for Yosano and 3,976 votes for Igarashi.
Visiting Ishikawa's election office in Chiyoda Ward after his victory became almost certain, Koike said: "We have the metropolitan assembly election ahead. I will step up efforts to carry out comprehensive reforms further across Tokyo."
Koike added that her full-scale Tokyo reform initiative also received major support from voters in the election.
Ishikawa said, "The governor's support helped me win the election," adding, "I will devote myself to promoting comprehensive reforms of Tokyo toward the next political stage."
In the election, voter turnout came to 53.67 pct, up by 11.40 percentage points from the previous Chiyoda mayoral election in February 2013.
Koike hopes that "Tomin First no Kai," a regional political party, which backs the governor, will field more than 40 candidates in the election.
She aims to help people supporting her win a majority of the 127 seats in the metropolitan assembly through the election.
Koike is also mulling cooperation with Komeito and other groups that are positive about teaming up with Koike in the Tokyo assembly election.
Meanwhile, the defeat of Yosano will deal a blow to the LDP, because Chiyoda Ward is the electoral home base of Shigeru Uchida, an LDP bigwig in the assembly. The party could face a need to review its strategy for the July election.
During his campaign, Ishikawa emphasized his intention to work closely with the Koike-led Tokyo metropolitan government, attracting support from voters who back the reform-minded governor.
Yosano, a nephew of former Japanese Finance Minister Kaoru Yosano, vowed to promote the internationalization of Chiyoda Ward. But he was unable to secure wide voter support partly because of a lack of time to prepare for the election.
Yosano also failed to gain support from Komeito, the ruling coalition partner of the LDP in national politics, because the party is coming close to Koike and did not bind its members to vote for Yosano in the mayoral election.
Ishikawa joined the Tokyo metropolitan government in 1963. After serving in such posts as head of Chiyoda Ward's planning division and chief of the metropolitan government's social welfare bureau, Ishikawa won his first term as Chiyoda mayor in the February 2001 election. (Jiji Press)