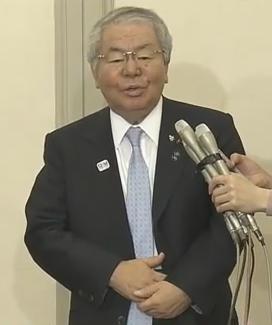 February 27, 2017
TOKYO- Shigeru Uchida, a Liberal Democratic Party heavyweight of the Tokyo metropolitan assembly, announced
Saturday
that he will not run in this summer's assembly election, citing concerns over his health conditions and age.
Uchida, 77, expressed his intention to retire as a metropolitan assembly member at a meeting of the LDP's Chiyoda Ward chapter, his election base.
Given the retirement announcement, the LDP will accelerate its work to choose a candidate in the
July 2
assembly election to fill the seat to be vacated by Uchida in the Chiyoda Ward constituency, people familiar with the matter said.
Uchida told reporters that he decided to exit from the Tokyo politics due to concerns about health-caused difficulties in carrying out his jobs as an assembly member. But Uchida added he will continue own political activities to support the LDP.
At the chapter's meeting, he offered to step down as its head to take the blame for the crushing defeat of an LDP-recommended candidate in the Feb. 5 Chiyoda mayoral election to incumbent Masami Ishikawa, who was backed by Tokyo Governor Yuriko Koike, a staunch enemy of Uchida. The resignation was accepted.
Elected to the Tokyo assembly for the first time in 1989, Uchida served a total of seven terms, taking such posts as LDP secretary-general in the assembly and president of the assembly.
He resigned as secretary-general of the LDP's Tokyo chapter after a candidate supported by the party was beaten by Koike, an LDP rebel, in the capital's gubernatorial election in July last year. (Jiji Press)