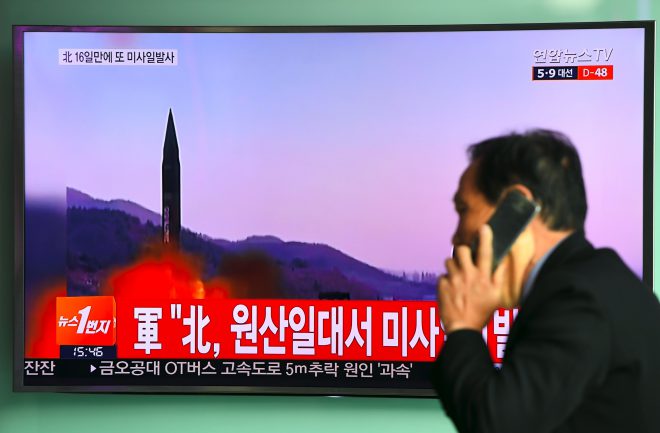 April 24, 2017
WASHINGTON- If the United States employs military force against North Korea, which has made repeated missile launches and other provocative actions, a major war on the Korean Peninsula would be unavoidable, a US expert said in a recent interview with Jiji Press.
If the United States tries to remove North Korea's nuclear and missile programs, "there will be a major war" on the peninsula, said Bruce Bennett, senior researcher the Rand Corp., an influential US think tank.
"It's hard to imagine any other outcome," he said.
"From a military perspective, we have to remember that there really is no such thing as a surgical strike against North Korea," Bennett explained.
The United States would have to attack "dozens of places" in North Korea in order to block both the nuclear and missile programs by Pyongyang, he said.
"If the United States attacks even one of those places, our fear historically has been that North Korea would retaliate against Seoul," he said, adding that "they would simply fire artillery into Seoul."
Asked about whether the United States would be able to oust North Korean leader Kim Jong Un from power, like it did former Iraqi President Saddam Hussein, Bennett, 64, said that finding him may be challenging.
When North Korea conducts a nuclear test or such actions, the top North Korean leadership disappears for days or weeks as they are afraid of being targeted, he said.
He added that North Korean leadership members usually hide in underground facilities.
With North Korea believed to have some 10,000 underground facilities, including ammunition storage spaces and command and control rooms, it would be difficult for the United States to get all of them to collapse, although not impossible, Bennett said. (Jiji Press)