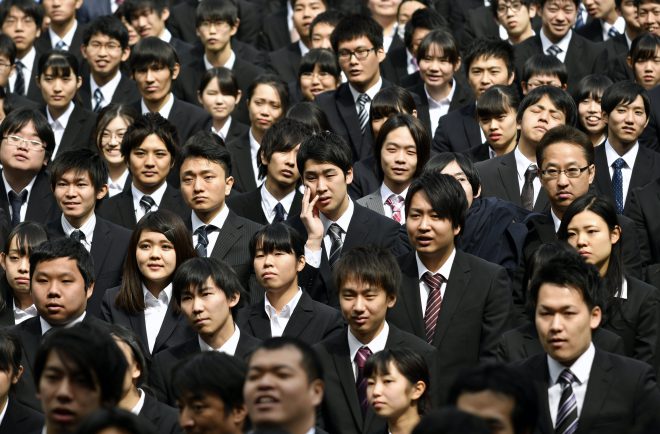 March 20, 2017
TOKYO- More than 70% of major Japanese companies plan to increase hires of new graduates or at least maintain the number of hires in spring next year, a Jiji Press survey showed.
Companies in such sectors as automobiles and housing have strong hiring plans, while some firms in steel, life insurance, securities and some other industries are ready to reduce hires, according to the survey that covered 100 major companies in Japan.
In the survey conducted between late February and early March, 74 companies presented hiring plans.
Of them, 38 companies said they plan to maintain the number of hires in spring 2018 compared with a year before, up from 35 in the previous year's survey.
The number of companies planning to increase hires fell to 17 from 25, while that of firms planning to reduce hires rose to 19 from 13.
McDonald's Company (Japan) Ltd. plans to increase the number of hires by 75% to 100. The hamburger chain said it aims to secure talented staff in line with growing earnings.
Nissan Motor Co.  plans to boost the number of hires by 100 to 680, focusing on engineers as the automaker aims to step up the development of self-driving and connected vehicles.
But SMBC Nikko Securities Inc., a unit of Sumitomo Mitsui Financial Group Inc. , plans to reduce the number of hires by 170, following years of increased hiring.
Fast Retailing Co. , owner of the Uniqlo casual clothing chain, plans to curb hiring in Japan to compensate for increased hiring overseas.
The survey showed 40 firms plan to increase hires of women.
A total of 28 companies plan to increase hires of foreign people. Among them, construction machinery firm Komatsu Ltd. said it aims to diversify corporate culture and encourage flexible thinking.
Department store operator Takashimaya Co.  said it needs to respond to an increase in the number of foreign tourists to Japan.
Takuya Kurita, research chief at job information provider Mynavi Corp., said that while Japanese firms are generally positive about hiring, many of them put priority on talented graduates. (Jiji Press)