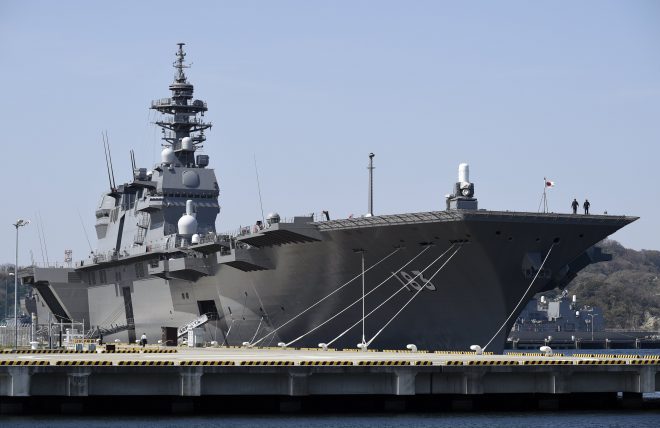 May 1, 2017
Yokosuka, KANAGAWA PREF.- A Japanese destroyer started the escort of a US military supply ship in waters off the Boso Peninsula, eastern Japan, on Monday afternoon, in the first such operation under Japan's national security laws, Japanese and US government sources said.  The Japanese Maritime Self-Defense Force's 19,500-ton helicopter destroyer Izumo and the US vessel will head for areas off the Shikoku western region, the Pacific side of the Japanese archipelago, while conducting joint exercises.
The Izumo, one of the MSDF's largest destroyers, left the MSDF Yokosuka base, south of Tokyo, in the morning after Defense Minister Tomomi Inada ordered the mission at the request of the US military under the laws that came into force in March last year. It later joined the US warship off the Boso Peninsula for the escort mission.
The start of the SDF's escort operations is intended to demonstrate the strength of the Japan-US security alliance and warn North Korea against making further provocations. The SDF and the aircraft carrier USS Carl Vinson conducted joint exercises last week.
The escort mission was made possible as the laws expanded the scope of the SDF's protection during peacetime or in "gray zone" situations that do not involve an armed attack to include equipment of US and other military forces that are engaged in activities to defend Japan in cooperation with the SDF.
SDF personnel can use weapons as a last resort during such missions. However, the operations are not allowed to take place in combat areas.
The US supply ship is expected to head to the Sea of Japan or other waters to provide fuel for a US Aegis destroyer and the Carl Vinson group that are engaged in surveillance of possible ballistic missile launches by North Korea.
Following its escort mission, the Izumo will head south to Singapore to participate in an international fleet review.
In the future, such SDF escort missions are likely to cover US Aegis ships on guard against North Korean missile launches, vessels engaged in logistics support in situations that could lead to armed attacks on Japan and ships participating in Japan-US joint exercises. (Jiji Press)