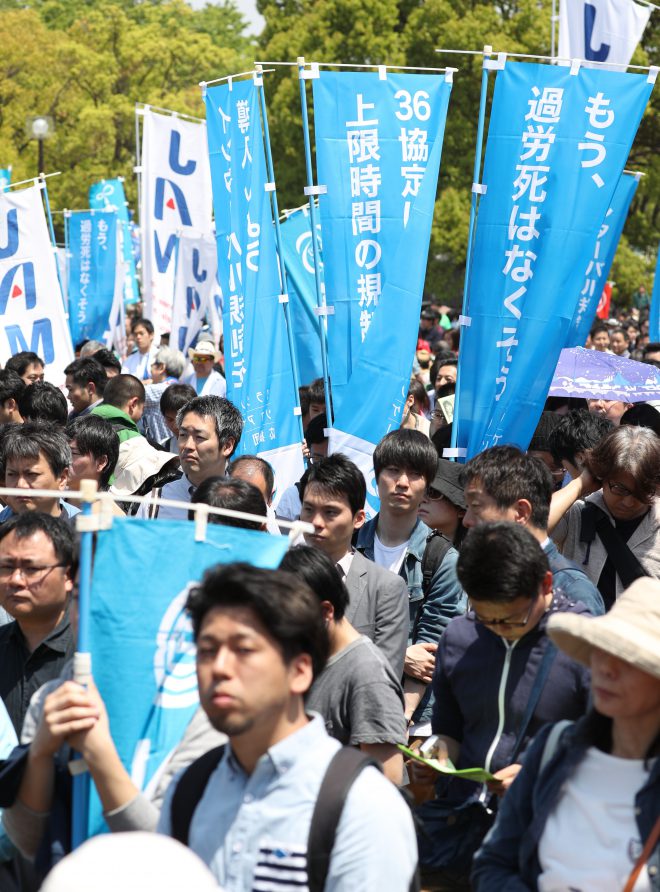 April 29, 2017
TOKYO- According to the organizer, the Japanese Trade Union Confederation, or Rengo, the rally was attended by some 40,000 people.
In Japan, the overwork-linked suicide in 2015 of a 24-year-old female employee of leading advertising agency Dentsu Inc. has aroused keen public interest in long working hours.
In late March, the government came up with an action plan for work style reform, including the introduction of an overtime cap of less than 100 hours per month during a busy period and the correction of unreasonable wage disparities between regular and nonregular workers. Discussions are under way to develop a legal system.
"We aim to prevent painful overwork-linked deaths and create a society where both men and women can enjoy a good work-life balance," Rengo President Rikio Kozu said in a speech at the rally.
Health, Labor and Welfare Minister Yasuhisa Shiozaki highlighted a need for reform that will allow various work styles. "We will boldly take on difficult challenges such as social security reform," Shiozaki added.
Tokyo Governor Yuriko Koike said, "Aiming to realize a Tokyo where everyone shines, we will take the opportunity of the 2020 Tokyo Olympics and Paralympics to change work styles." (Jiji Press)