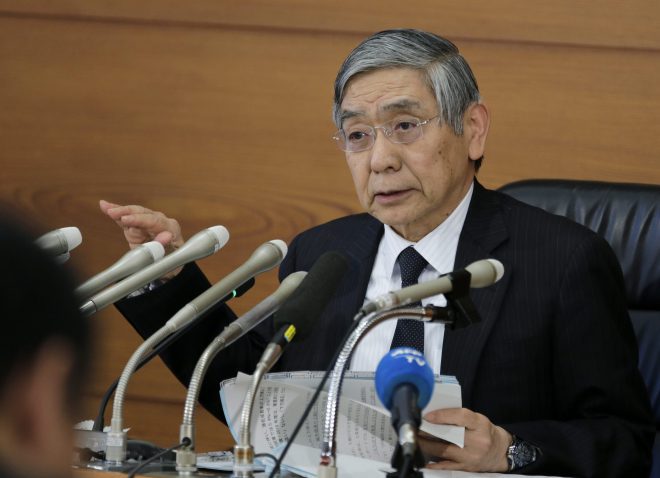 February 16, 2017
TOKYO- Bank of Japan Governor Haruhiko Kuroda said
Thursday
that mergers and consolidation could be options for private-sector banks in order to beef up their earnings.
Speaking at an international conference in Tokyo, Kuroda noted that extremely accommodative monetary policies taken by the central banks in many developed countries in response to low economic growth and low inflation are "eroding lending margins, which are the sources of profits for financial institutions."
The low profitability at financial institutions has become "a global problem," he said.
Pointing out that individual financial institutions "must choose approaches that are best suited" to their own needs, Kuroda said, "In some cases, mergers or consolidation between financial institutions could be an option."
From a longer-term perspective, it is becoming important to prevent low profitability at financial institutions from undermining financial stability, Kuroda said.
The global financial system has been steadily reinforced, and the risk of the international community falling into a financial crisis like one that occurred almost 10 years ago has considerably decreased, Kuroda said.
But he said the environment surrounding the financial system is "undergoing rapid changes," including the development of fintech, or new financial services using information technology, and the shadow banking sector.
"These developments suggest that a different kind of financial crisis could happen in the future," he warned.
"There will always be room for efforts to enhance the stability of the financial system, and authorities must continue to respond to changes in the environment," Kuroda stressed.  (Jiji Press)