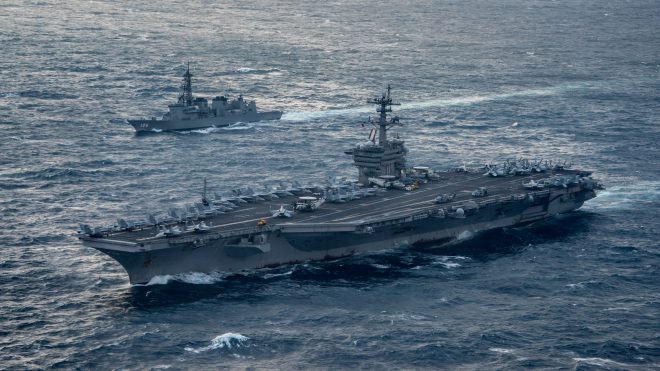 April 12, 2017
TOKYO - Japan's Maritime Self-Defense Force is considering a joint drill with the nuclear-powered aircraft carrier USS Carl Vinson, which is heading toward waters near the Korean Peninsula, it was learned
Wednesday
.
The move is apparently aimed at warning North Korea after a series of missile launches.
According to informed sources, the MSDF is looking at conducting the joint drill in waters close to Japan at an early date in line with the move toward the north of a US strike group led by the Carl Vinson.
On
March 7-10
and March 27-29, an MSDF destroyer conducted a drill in waters surrounding the East China Sea together with the USS Carl Vinson, which was deployed to take part in a joint exercise between the United States and South Korea.
In the engaged dill, there is no plan for the MSDF to practice defending a US vessel, an operation that Japan is now allowed to carry out under its national security laws, the sources said. (Jiji Press)