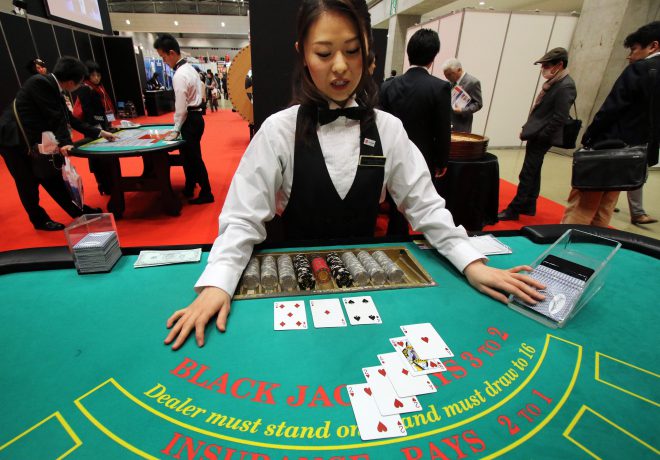 May 6, 2017
TOKYO- Japanese municipalities willing to introduce casino resorts are keeping a close eye on what regulations and standards the central government will come up with to govern them.
These municipalities expect so-called integrated resorts, including casino, accommodation, convention, restaurant and retail facilities, to help promote tourism and job creation.
The central government aims to have two or three integrated resorts open in the country in the early 2020s. It plans to submit legislation to set regulations and standards for parliamentary approval in autumn this year.
The Osaka prefectural and city governments in western Japan hope to open an integrated resort on Yumeshima, an artificial island in Osaka Bay, in fiscal 2023 or fiscal 2024. The city government forecasts an annual economic impact of over one trillion yen.
"The standards should include criteria on the size of an integrated resort relative to that of an area that includes it," an Osaka city official said. Yumeshima will be advantageous if such criteria are introduced because the island is large, the official said.
Yumeshima would be the site for the 2025 World Exposition if Osaka wins its bid to host the event. The central government last month filed Osaka's candidacy with the Bureau International des Expositions in Paris.
The Nagasaki prefectural government and the Sasebo city government in the southwestern prefecture are willing to introduce an integrated resort in an area that includes the Huis Ten Bosch theme park. A study group organized by local companies estimates an annual economic benefit of some 180 billion yen.
"If judged only by the size of investment, large cities will be advantageous. Criteria should be focused on promoting regional revitalization," a Nagasaki prefectural government official said.
An official at the prefectural government of Hokkaido, northernmost Japan, echoed the view. "There should be regional integrated resorts that can promote regional revitalization," the official said.
Some prefectural and municipal governments are cautious about integrated resorts, casinos in particular, because of concerns about public security and gambling addictions.
An official at the Tokyo metropolitan government said, "Integrated resorts will bring both positive and negative effects." (Jiji Press)