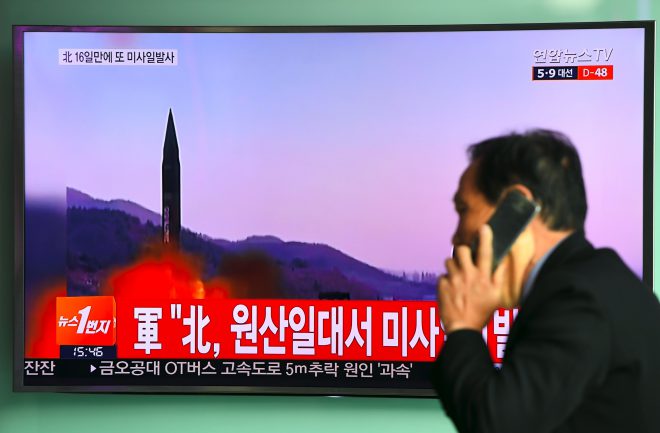 March 22, 2017
SEOUL- North Korea fired a missile on Wednesday morning, but the launch apparently failed, officials of South Korea's National Defense Ministry said.
The missile was launched from a site near an airfield in the eastern North Korean city of Wonsan, which faces the Sea of Japan, according to the officials.
The US and South Korean militaries are working to identify the missile type and the cause of the launch failure.
In Tokyo, Japanese Chief Cabinet Secretary Yoshihide Suga told a news conference that there have been no circumstances that directly affect Japan's security.
On Sunday
, the North Korean media reported that Kim Jong Un, the country's leader, had viewed a ground combustion test of a new-type rocket engine, quoting him as saying that the world would "soon witness" the significance of the successful rocket test. The South Korean ministry believes that the North has made significant progress in improving the performance of its rocket engines.
On March 6, the isolated country simultaneously fired four ballistic missiles into the Sea of Japan.
Japan's Defense Ministry said the same day that the four missiles fell into waters about 300-350 kilometers west of the Oga Peninsula in Akita Prefecture, northeastern Japan, and that three of them is believed to have landed in Japan's exclusive economic zone.
Three days later
, Suga said at a press conference that one of the four missiles may have fallen into Sea of Japan waters some 200 kilometers north of the Noto Peninsula in the central Japan prefecture of Ishikawa, hinting that it landed at a point closer to Japan's mainland than any other missiles launched by North Korea ever.  (Jiji Press)